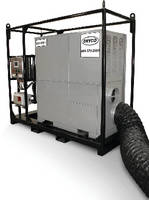 Featuring 9 ft x 3 ft 8 in. x 8 ft 1 in. footprint, XDH2000 Series utilizes silica gel-impregnated desiccant technology and is suitable for mobile applications. Units require 60 A/480 V or 45 A/600 V of power to deliver 2,000 cfm at 2.5 in. static pressure. UL/CSA listed Class I, Div 2, deep-drying dehumidifiers deliver climate-controlled environment in potentially hazardous locations.
Read More »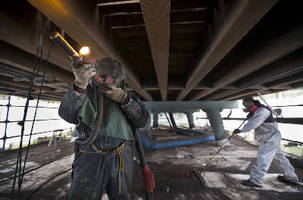 Pier Renovation Requires Sophisticated Climate Control, Contained Underside Platform System A recent blasting and coating project for the San Clemente Pier in San Clemente, Calif., was no simple walk on the dock of the bay. It offered significant challenges that dictated the design of a contained environment underneath the pier dock and a precisely controlled environment. Thanks in part to...
Read More »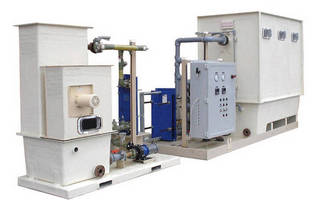 (Buffalo, NY) Available from Kathabar Dehumidification Systems, Inc., KDS Solar liquid desiccant systems utilize solar hot water for economical dehumidification of outdoor ventilation air that is typically 30-50% more energy efficient than dry desiccant systems. Making use of solar heat can lead to increased energy efficiency and significant utility savings for applications requiring high amounts...
Read More »
Sunbury, OH - Bry-Air, Inc.'s desiccant dehumidification equipment has been installed as part of a larger system to control and maintain the speed skating ice arena at the Vancouver Winter Olympics. For over 45 years Bry-Air, Inc. has been a leading manufacturer in producing custom designed desiccant dehumidification units. Bry-Air takes the time to know what their client's needs are, so they can...
Read More »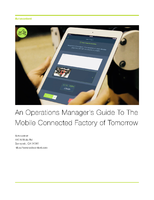 This white paper provides an overview of mobile technology for managing your manufacturing facility, while also discussing the advantages of being an early adopter.
Read More »
(July 9, 2009) - Duty Free Americas, Inc. (DFA) reduced electricity costs 25% and eliminated moisture-related damages to goods by installing DuCool desiccant cooling and dehumidification systems. The installation of two DuTreat model DT800/4 desiccant cooling systems alongside two existing conventional air conditioning units made it possible to maintain constant conditions of 76Â-ºF...
Read More »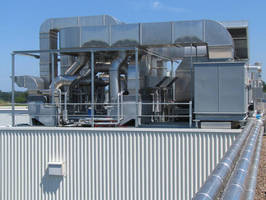 (June 16, 2009) - The TönniesFleisch plant in Rheda-Wiedenbrück, Germany has reduced the cost of cooling and dehumidification by 43% by installing DuCool's DuHandling desiccant dehumidification and cooling systems. The DuHandling system utilizes cold and hot water that are available in the plant from other processes to deliver dry and cool air as required. The plant is saving annually over...
Read More »
(March 26, 2009) -- DuCool has introduced dehumidification and cooling solutions that dramatically improve the energy efficiency of cogeneration systems by utilizing their waste heat to provide cooling and dehumidification. DuCool's systems combine desiccant dehumidification with evaporative or geothermal cooling to upgrade co-generation systems to a tri-generation system. This approach...
Read More »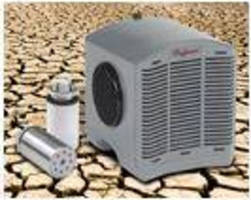 02/02/2009 Hoffman announces the H2OMIT(TM) Thermoelectric Dehumidifier and UL 4X Listed Vent Drain, designed to protect sensitive electrical and electronic equipment from damage caused by condensation. Anoka, MN-February 2, 2009-Hoffman announces the H2OMIT(TM) Thermoelectric Dehumidifier and UL 4X Listed Vent Drain, designed to protect sensitive electrical and electronic equipment from damage...
Read More »
Intended for 3-A and USDA applications as well as applications involving contamination-sensitive materials, Rotary Batch Dryer-Dehumidifier-Cooler features all-stainless contact surfaces, continuous polished welds, and external removable seals. Configurations are available for both direct and indirect drying, dehumidifying, and cooling. Offering usable batch capacity of 20 cu-ft and total...
Read More »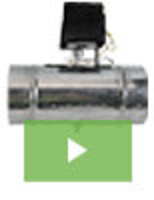 Alan Manufacturing has a long history of developing innovative solutions for HVAC applications. With over 1,000 product designs under our belt, we have gained a reputation as the go-to source for HVAC dampers, hardware, duct supports, zone control systems, and much more. Adding to this extensive list of achievements we now announce the release of our new line of Fresh Air Intake products. Designed to meet ASHRAE 62.2 standards, they are the most robust and high-performance product of their kind. See our video to learn more.
Read More »