With optimized processing speeds, NRTRDE Near Real Time Roaming Data Exchange Service provides GSM operators with continuous data on roaming calls and enables them to optimize management of international roaming fraud by closing time window in which losses can occur. Service will also transfer and validate 90% of call data within 10 min of its receipt from client and all data within 40 min. Basic...
Read More »
Requiring 2-step form activation process, ExpressDB connects any online form with database. Wizard-based interface supplies customized action tag to copy and paste into form's source file. Technology then automatically discovers elements and fields of form and instantly creates matching database, on-the-fly, when data is first submitted. Along with unlimited forms and storage, service offers...
Read More »
Dallas, Texas, USA-July 10, 2007-Flowserve Corp., a global provider of fluid motion and control products and services, has added hydraulic decoking enhancements to its Flowstar.net electronic database program. Flowstar.net is an industry-leading technology application, helping reduce maintenance and inventory costs while proactively managing reliability and maintaining operational up-time for...
Read More »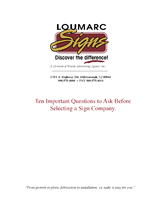 This white paper outlines 10 questions that should be asked when selecting a sign company, eliminating some of the guesswork from making the best choice for your branding and signage needs.
Read More »
CCIM Members To Benefit from Access to CoStar's Industry-Leading Information, Including For Sale Listings Nationwide and Local For Lease Listings Within Their Markets BETHESDA, Md., Aug. 1 -- CoStar Group, Inc. (NASDAQ:CSGP), the number one provider of information services to the commercial real estate industry, today announced an agreement with CCIM Institute to provide its members with online...
Read More »
Chemical & Life Science Industry's Most Powerful Search Engine Now Available in Spanish and Portuguese for Latin American Formulators OVERLAND PARK, KANSAS (May 21, 2007) - Chemidex, a leader in providing specialized search engine services for the global chemical and food industries, announced today that it had released a Latin America site for its core industry service, the Chemidex Cybrary....
Read More »
Collection Includes Active, Unclassified U.S. Standardization Documents PHILADELPHIA and LONDON, July 17 -- Thomson Scientific, part of The Thomson Corporation (NYSE:TOC) (TSX: TOC) and leading provider of information solutions to the worldwide research and business communities, today announced that it has added Military and Federal Specifications and Standards to...
Read More »
Asia Netcom's Call Aggregation Service Recognized for Applications Which Empower Next Generation Call Centers BEIJING, June 6 / / - Asia Netcom again proves its leadership in bringing next generation applications to market at the Broadband World Forum Asia 2007. During the InfoVision awards ceremony today in Beijing, the company's Call Aggregation Service (CAS) was recognized by the International...
Read More »
Combined Platforms Enable Complex Analytics With High-Volume, Real-Time and Historical Data DUBLIN, Calif., June 19 - Sybase, Inc., a leading provider of enterprise infrastructure and mobile software, today announced that Sybase's Real-time Analytics Platform, a highly optimized real-time data processing service platform, now integrates with StreamBase's high-performance Complex Event Processing...
Read More »
Available to Travel Management Companies (TMCs) and corporate travel buyers, Travel GPA delivers real-time industry benchmarking utilizing algorithms to produce travel report card based on pre-defined goals and metrics. Measurement against travel database shows how well specific travel programs and their TMC is performing. Travel GPA Report Card provides real-time analysis of company's travel...
Read More »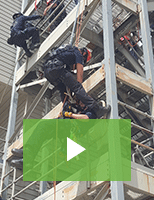 Elite Technical Services provides your company with qualified and experienced safety experts. Specializing in confined space and high-angle technical rescue and jobsite hazard assessment, your workplace safety is the top priority. Check out the video to learn more.
Read More »