CHICAGO, Storage Decisions, May 15 / - Brocade®, the leader in networked storage solutions that help enterprises connect and manage their information, today announced that it will host a comparative power efficiency demonstration this week during Storage Decisions, measuring the Brocade 48000 Director against the Cisco MDS 9513 in a side-by-side operational comparison. Based on identical...
Read More »
First ever Clustered Storage Solution with Huge Scalable Bandwidth and Guaranteed Real-Time Performance Maximum Throughput Inc. (www.max-t.com), developers of ultra high performance software-based solutions for networked storage infrastructure and media management, has announced that the company will be demonstrating today (May 9), its latest clustered storage solution, MAXcluster. MAXcluster is...
Read More »
Framingham, MA. - HalStor, Inc., a pioneer in configurable I/O and storage solutions, introduces triple protocol, dual processor, single chip, Fibre Channel (FC) to Serial ATA/Serial Attached SCSI (SATA/SAS) gateway/controller design. The flexibility of this design enables maximizing performance and functional flexibility for storage systems and servers utilizing FC Storage Area Networks and...
Read More »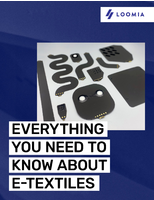 This ebook provides an in-depth overview into everything you need to know about E-Textiles.
Read More »
LAS VEGAS, May 2 -- Datalight Inc. today announced that it received the 2007 Americas Windows Embedded Excellence Award for Independent Software Vendor. Datalight received this award yesterday, as part of the Microsoft Mobile & Embedded Developers Conference. The Windows Embedded Partner Excellence Awards, previously called the Windows Embedded Partner of the Year Awards, recognizes visionary...
Read More »
Featuring capless design that swings out 180° from protective shell, TravelDrive(TM) provides up to 8 GB capacity for saving and transporting digital files. Integrated Portable Vault USB security software offers password protection and 256-bit encryption, while Readyboost(TM) capabilities enable drive to be accessed by Windows® Vista(TM) PC to provide additional system memory....
Read More »

Incorporating Intelligent Stick technology, PQI Traveling Disk i221 series is compatible with USB 2.0 and 1.1 specifications including hot swappable, plug and play, and low power consumption functions. At 63 x 21 x 11.1 mm, device is able to stand upright and features dongle hole for users to string it around their necks. It is available in white with green trim, black with orange trim, and white...
Read More »
OAKDALE, Minn., April 26 // -- Imation Corp (NYSE:IMN), a worldwide leader in removable data storage media, today announced that it has received LTO (Linear Tape-Open) Ultrium 4 certification from Measurement Analysis Corporation (MAC), an independent testing board for compliance verification testing and the LTO Consortium. As a result of this certification, Imation is the first to begin shipping...
Read More »
Delivering up to 160 GB of storage capacity (compressed), DAT 160 features WORM (Write Once, Read Many) capability and is backwards compatible with DAT 72 and DDS-4. Two tone black and light gray colored cartridges support secure backup and storage of critical data for legal and regulatory compliance such as Sarbanes-Oxley and HIPAA. Wide-tape cleaning cartridge (DAT/CL2) provides head cleaning...
Read More »
Equipped with embedded extract, transform, and load capabilities, Sybase IQ 12.7 Analytics Server meets demands for business intelligence, analytics, predictive modeling, regulation compliance, and high-speed reporting. It includes column-level encryption option, password formatting, and multiplex login management features. OLAP functionality offers windowing and statistical functions to...
Read More »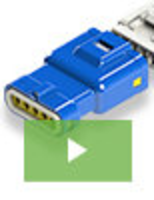 EDAC's new line of IP67 waterproof plug and socket connectors represent the cutting edge of waterproof connection technology. Part of the 560 and 572 series of connectors, they utilize innovative design concepts to deliver a level of performance and value that is unmatched in the industry. See our video to learn more.
Read More »