Photo Sciences, Inc. of Torrance, California has developed a unique approach to manufacturing custom digital gray scales using sophisticated micro-lithography techniques typically used to produce photomasks for the semiconductor industry. The custom digital gray scales produced by Photo Sciences are on glass or quartz plates with microscopic images etched into a chrome coating on one surface of...
Read More »
Featuring 2.13 micron square SRAM bitcell optimized for high density embedded memory design for high resolution WQVGA, HVGA, and VGA TFT panels with 2.5 in. panel size and above, CL130H32 is 0.13 micron high voltage technology. It offers Asymmetry High Voltage Well for denser design, one-time-programmable cell for gamma color tuning and voltage trimming, ESD protection, and metal capacitors...
Read More »
Atlanta, GA - August 5, 2008 -- Quickparts (http://www.quickparts.com), one of North America's largest providers of custom designed parts, from rapid prototyping to production parts, today announced the availability of a new gray ABS-like Stereolithography (SLA) material for use in Rapid Prototyping and RTV/Silicone master patterns. For our customers that need functional detailed SLA parts,...
Read More »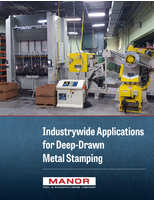 Deep-drawn metal stamping applies a significant punching force to radically draw metal sheets into a die cavity. Finished components produced by this process tend to have a depth that exceeds their diameter, which is why manufacturers refer to it as "deep-drawn" metal stamping.
Read More »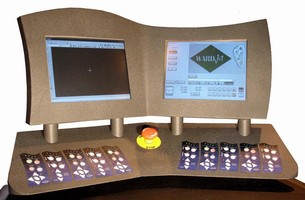 Come see us at FabTech Tallmadge, Ohio - July 8, 2008 - WARDJet, Inc. a leading manufacturer of waterjet cutting machines, now offers over 20 models for customers to choose from. WARDJet produces systems with multiple 5 axis abrasive or water only cutting heads. WARDJet also specializes in custom machine applications with a huge selection of options that can be mounted on the units such as height...
Read More »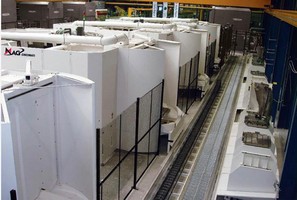 Proven cell design automates production for highest machine utilization, while "teamkey" process development optimizes titanium cutting productivity and part throughput July 2008 - MAG Cincinnati (Hebron, KY) begins take-off roll for TECT Aerospace on a high-powered cell for automated machining of large titanium airframe components. The TECT order covers a three-machine five-axis machining cell...
Read More »
Following the announcement that it has been chosen by Concept Laser GmbH as the exclusive United Kingdom and Republic of Ireland distributor for Concept Laser's Additive Manufacturing systems, ES Technology will unveil the M2 LaserCUSING® machine at the forthcoming TCT exhibition in October. LaserCUSING® Live ! The M2 LaserCUSING® CAD-to-metal machine, will demonstrate its...
Read More »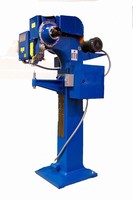 Chicago Rivet & Machine Co., a leading manufacturer of rivets and specialty cold formed parts, as well as automatic rivet setting equipment and automated assembly systems, announces recent enhancements made to many of its machines in the Chicago Rivet product line. These new engineered features include: A needle bearing flywheel which reduces maintenance costs. A new hopper design with one-way...
Read More »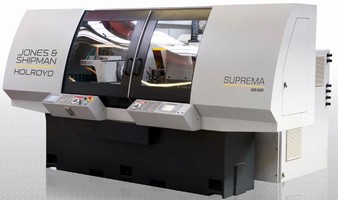 PRESS INFORMATION FROM JONES & SHIPMAN AT IMTS08 (Booth B6760) Jones & Shipman - Holroyd, world leaders in the supply of high quality, precision cylindrical, surface, creepfeed, gear and rotor grinding machine systems, are exhibiting at IMTS08 three market-leading machines plus two full size wheelhead modules; a novel multi-wheel design from Jones & Shipman and a stylised concept dressing unit...
Read More »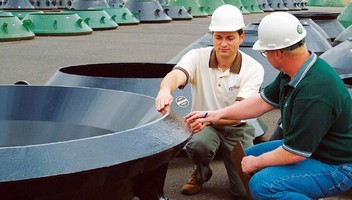 PORTLAND, OR - JULY 2008 - This year marks the 20th year anniversary for Xtralloy, a unique high carbon and manganese alloy from Columbia Steel that changed the way the aggregate and mining industries think about wear part life in tough, abrasive applications. Although high carbon and manganese steel from Europe began making inroads in the States in the early 1980s, it wasn't until 1986 that high...
Read More »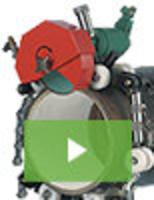 CS Unitec is a leader in power tools designed for industrial applications, with products that set the standard for robust performance and industry-leading reliability. Adding to our long list of innovation is a new line of pipe cutting machines. For cutting and beveling pipe up to 2" in thickness and diameters from 12" to 63", no other cutting system comes close. See our video to learn more.
Read More »