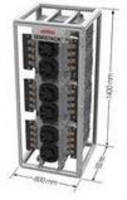 Semistack power electronics platform with SKiiP intelligent power modules allows users to connect stacks in parallel, supporting applications from 450 kW for solar to 2.5 MW for wind power. System's 3 half bridge phase modules are arranged in vertical configuration, linked via low-inductance DC connector. It is available as power assembly with mounting brackets or as cabinet with cooling circuit...
Read More »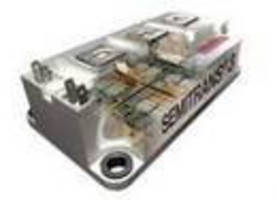 SEMITRANS 2, with 34 mm wide case, and SEMITRANS 3 and 4 modules, measuring 62 mm wide, are 1,200 V modules for use in AC/DC converters in 20-300 kW power range. Available with V-IGBT chips, units offer rated current of 150-600 A and have IGBT switching speed of 5000 A/-µs, enabling module overvoltage of 75 V. Insulation strength is 4,000 V/min and modules are also available with blocking...
Read More »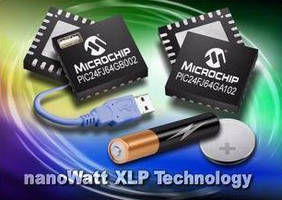 Model PIC24FJ64GA104 general-purpose MCUs feature 16 MIPS performance, 32 or 64 Kb Flash, 8 Kb RAM, and ability to reconfigure digital I/O pins via peripheral pin select. In addition, PIC24FJ64GB004 units also provide full-speed USB 2.0 peripheral, embedded host, and OTG solution. Both 16-bit MCUs feature nanoWatt XLP technology for low power consumption and mTouch(TM) capacitive touch sensing....
Read More »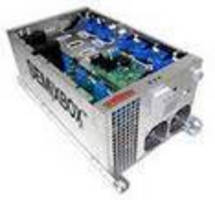 SEMiXBOX is IGBT-based modular power assembly that allows for different variations with 1- or 3-phase inverter, rectifier, and chopper, providing any required topology up to 180 A. Consisting of 1 or 2 main box sections, it is composed of SEMiX diodes, thyristors, or IGBTs assembled onto compact cooling system with heat sink and fan coupled to low-inductance DC link. Assembly is enclosed in IP20...
Read More »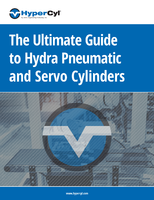 This white paper provides a guide to hydra pneumatic and servo cylinders.
Read More »
Suited for smart phones, portable media players, and other portable electronic communications devices, Capacitive Touch Panel Controller can track up to 45 simultaneous touch points without ghost points. Unit offers 500 dpi resolution for jitter-free smooth tracking; hover rejection and palm detection to prevent false touch responses; and 13 in./sec tracking speed to provide responsive screen...
Read More »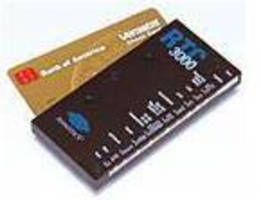 Measuring 3.68 x 1.815 x 0.35 in., Model RTC-3000 can operate virtually any small brushed or brushless DC servo. Stand-alone system includes controller, amplifier, logic power supplies, and program interpreter with 32 k program memory and 32 k data storage. General purpose I/O provides several channels of 10-bit analog input, while AniLink(TM) port links to peripherals such as LCD displays. Up to...
Read More »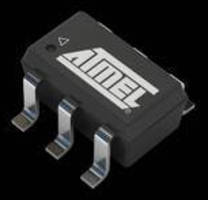 Offering 512 bytes or 1 KB in-system programmable flash, 6-pin tinyAVR-® MCU models ATtiny4/5/9 process up to 12 MIPS at 12 MHz to reduce time in active mode and increase time in sleep modes. Pin- and code-compatible products facilitate migration between projects with different requirements. While 8-bit ADC is specific to ATtiny5, all models feature 32 Bytes internal SRAM, one 16-bit...
Read More »
Available in 2 versions, one for SLC and another for MLC memory, NAND Flash Controller is architected to handle raw error bit rates as NAND memory migrates to finer process geometries. It processes information contained in Extended ECC Information data structure stored in NAND memory and supports booting directly from NAND memory. Supporting transfer modes up to 166 and 200 MBps, IP core is...
Read More »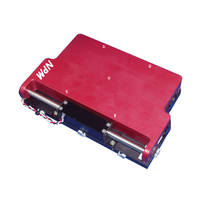 Features NPA's Linear Shaft Motor, Produces Piezo Stage Accuracy with Speed of Servo Stage RADFORD, Va. -- The Nippon Pulse America, Inc. (NPA) SCR100 stage is an ultra high precision, compact single-axis stage that integrates a slide guide, encoder, and Linear Shaft Motor. The SCR100 stage offers a wide range of advantages for ultra high performance and accuracy applications. Through complex...
Read More »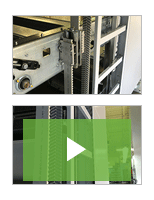 Megadyne's QST polyurethane timing belts take up less space and guarantee a lower noise level than chain and other traditional material handling belts. Check out our video to learn more.
Read More »