PureTouch(TM) LDS6010 and LDS6040 integrate haptics driver, designed to heighten responsiveness of tactile effects, for use with mobile phone touch-input controls. Driver supports ERM (eccentric rotating mass) and LRA (linear resonant actuator) vibration motors. Compatible with Immersion Corporation VibeTonz® advanced haptic platform for mobile phones, controllers feature 15 touch sensor inputs,...
Read More »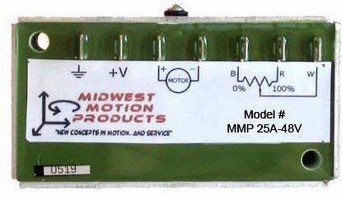 Fully encapsulated to meet IP65 standards, MMP 25 A Series Electronic Controls are designed for battery-powered applications that require adjustable output voltage. Measuring 1 x 2 x 4 in., they provide 25 A continuous current at 12, 24, or 48 Vdc, delivering up to 600 W of continuous output power. Units can deliver up to 40 A of peak current for peak output power capacity of 960 W and are...
Read More »
Based on 32-bit V850ES(TM) core, V850ES/Jx3-H(TM) and V850ESJx3-U(TM) MCUs execute USB 2.0 data transfers at speeds up to 12 Mbps. Four chips in V850ES/Jx3-U Series provide USB host and function capability, while 8 chips in V850ES/Jx3-H lineup provide USB capability only. Operation at clock speed of 48 MHz enables chips to execute 98 MIPS. With on-chip motor control timer and real-time counter,...
Read More »
Supplied in 64-pin LQFP, -µPD78F8024 combines 8-bit All Flash(TM) MCU with 4-channel constant high-current driver (HCD). It supports switching frequencies up to 1 MHz and allows use of passive components to reduce board space. Also able to communicate with temperature/lighting sensors, MCU offers mower management capabilities that suit lighting applications with more than one LED, industrial...
Read More »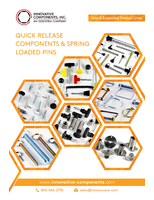 To learn more about the different types of pins available or which ones to select for your specific application, download our product guide.
Read More »
Suited for consumer electronics and computing applications, USB2240 and USB2250 Hi-Speed USB 2.0 controllers offer read and write support for 24 Flash media formats and help reduce bottlenecks with throughput speeds to 35 Mb/s. Series USB2240 uses multiplexed Flash media interfaces in 36-pin QFN package, while USB2250 comes in 128-pin VTQFP and supports simultaneous access to different Flash...
Read More »
June 2008 CNC Software, Inc., Developer of Mastercam®, Celebrates 25th Anniversary Tolland, CT - CNC Software, Inc. is celebrating its 25th Anniversary in 2008. Two brothers, Mark and Jack Summers incorporated the company in 1983 with a new programming concept for CNC (Computer-Numerical-Control) machine tools. They developed a PC-based CAD/CAM...
Read More »
Troy, Michigan USA - July 1, 2008 - It was announced today that a purchase order was signed between Interxion, the leading European provider of carrier-neutral data centers, and Telezygology Inc. for the initial deployment of an Intevia Enterprise(TM) data center equipment cabinet security management solution, in its Madrid facility. Intevia Enterprise(TM) is an integrated, network-enabled...
Read More »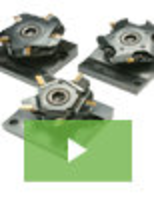 Thanks to the unique SpinSelect™ Multi-Pocket selectable quick change tool holder, it's time to rethink the range, complexity and volume of parts that your lathe can produce. Our Spin-Select™ tool was created to increase productivity and consistency by decreasing downtime associated with lathe cutting tool and insert setups or changeovers. This product is a game-changer for the industry and we're pleased to show you why.
Read More »