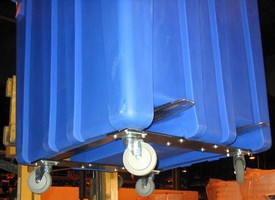 Equipped with enclosed steel fork pockets and 4 industrial-strength casters, P-333 Ship Shape(TM) container accommodates up to 700 lb on 44 x 44 in. footprint with 2-way lift access. Features let lift truck operators rotate, tilt, and dump container without requiring dumping machinery, while safety upgrade helps container stay positioned on forks. Reusable and returnable, product unitizes loads...
Read More »
Thermal containers reliably transport blood to operating rooms and surgeries at FDA-defined storage requirement temperatures of 1-6-°C for up to 12 hrs. Phase change materials embedded within inner-chamber walls lock in payload temperature at 4-°C. This inner chamber can be staged for use by being stored in freezer or refrigerator. Container is fully reusable and is designed to replace coolers...
Read More »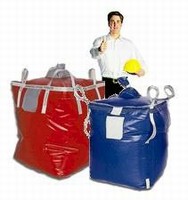 7/10/2007 Springfield, MO-We are pleased to announce that Springfield Special Products has a new 3000 pound semi-bulk bag capacity. Springfield Special Products (SSP) is a family-owned business that has been in operation since 1985. They are the only company in the United States to manufacture reusable bulk bags, the PermaTainer, that do not require liners and FDA-approved bags without liners....
Read More »
WEST WARWICK, R.I., June 6 -- Star Move Alliance(SM), an Arpin Group company, today announced that it has entered into a strategic alliance with Smart Move, Inc. (AMEX:MVE) a company within Arpin Group's network of approved service providers. This unique service collaboration combines Star's dedicated Personal Move Counseling services with Smart Move's efficient, cost-effective household goods...
Read More »
This white paper provides an overview into what to look for in an optical partner.
Read More »
Ref.7128 cap at BERICAP China 7128 cap for 5L PET bottle of edible oil in China. BERICAP developed a new closure for 5 litre edible oil pack for KERRY OIL GROUP who is the market leader in consumer pack edible oil in China. It's ARAWANA brand is the leading brand of premium edible oil in China. Early this year KERRY OIL merged with WILMAR to form the largest edible oil company in Asia. The...
Read More »
MADISON, WIS. (January 22, 2007) - Placon Corporation introduces the latest addition to its HomeFresh family, the HomeFresh Rotisserie Chicken Container. The container's innovative, two-piece patented design, keeps chickens fresh, hot, and secure. The tight-sealing lid makes the HomeFresh Rotisserie Chicken Container leak-resistant in the store's display case and on the journey home. Also, this...
Read More »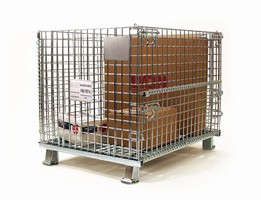 Wire mesh containers feature notched legs that interlock for positive stacking and permit forklift or pallet rack entry. Front drop gate allows access to contents when stacked. Featuring zinc-plated design for visual inventory of stored contents, units are available in 3 standard models that hold up to 4,000 lb each and can be stacked 4 high in 32 x 40 in. area, and 20 x 32 x 16 in. junior size...
Read More »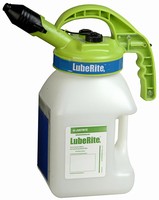 Designed to facilitate filling, dispensing, and refilling, LubeRite(TM) rust-proof polyethylene containers protect lubricants from dirt and dust. Fully sealed, gasketed system with quick fill port further minimizes potential for contamination, and on-off nozzles facilitate dispensing to awkward points to speed lubrication jobs. Containers come in 3 sizes with 3 different nozzle diameters, each...
Read More »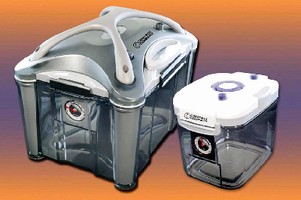 Offered in 3,000 and 11,500 cc sizes, Desi-Vac has vacuum pump built into top that removes air with manual strokes, making unit suited for drying, preserving, storing, and shipping samples. Container features O-ring sealed cover and achieves vacuum of better than 200 in. of water. Release button on top allows air into container to remove the lid, while vacuum indicating button confirms interior...
Read More »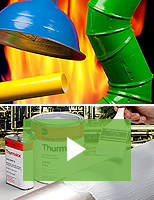 Dampney's high performance coating systems provide protection against extreme weather, chemicals, and corrosive environments for atmospheric, immersion, and underground applications. Check out the video to learn more.
Read More »