Metso Minerals will supply a grinding system for a new concentrator at Boliden's Aitik mine in Gällivare, Northern Sweden. The new concentrator, with the grinding circuit, is scheduled to start operation in 2010. The value of the equipment order is approximately EUR 39 million. Metso's order comprises two AG (autogenous) mills and two pebble mills, complemented by engineering, erection and...
Read More »
In this eBook, discussed are the factors to consider when choosing the right safety grating for your application and details about the varieties offered by Metalex.
Read More »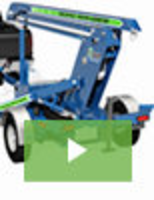 Providing adequate fall protection is always a critical consideration and one that in many cases can be difficult to ensure. The new Mobile Fall Protection Unit is designed to facilitate positive fall protection in applications that would typically be difficult or impossible to provide with standard methods. To learn all about the advantages and convenience, see our video.
Read More »