Featuring flashpoint of 221°F, LO-VO Wash CA-100 press wash has VOC content of less than 100 g/L. Water miscible product does not contain acetone, is formulated for sheetfed and web printers that require solid cleaning power, and can be used both manually and in automatic blanket wash units. Tower 250 WA rinse agent is added at 5% to water reservoir, and is non-flammable and VOC free.
Read More »
With 3 model options including 2 spindle-ready chambers for cleaning narrow necked glassware, 1 spindle-ready chamber and 1 without, and 2 chambers with no spindle option, Vertical SpaceSaver Double Stack Washer provides up to 4 loading levels in 2 independently microprocessor controlled washing chambers. Single chamber unit features fully programmable PLC control with large touch-screen display...
Read More »
Matched-Pair Memory Kits for Apple Mac Pro up to 32GB for as low as $48.75/GB Upgrade to 16GB for less than 1/4th, Upgrade to 32GB for less than 1/3rd the cost of Factory Options January 9th, 2008, Woodstock, IL, - Other World Computing (OWC) http://www.macsales.com, a leading Mac and PC technology company and a leading after-market supplier of memory upgrades for the Mac Pro, today announced...
Read More »
Kit Provides Low-Cost, Modular Development System for Microchip's PIC32 MCUs Mansfield, Texas, USA - January 10, 2008- Mouser Electronics, Inc., known for its rapid introduction of the newest products, today announced it is stocking the PIC32(TM) Starter Kit from Microchip Technology Inc. [NASDAQ: MCHP], a leading provider of microcontroller and analog semiconductors. The kit provides a low-cost,...
Read More »
The paper focuses on the capabilities of the IFR 3410 Series digital RF signal generators from Aeroflex and their ease of use in testing multi-carrier power amplifiers (MCPAs) for 2G and 3G wireless systems. It lists the features of the IFR 3410 series including its 2, 3, and 4 GHz models, explains the operation of single carrier and multi-carrier power amplifiers with the help of illustrations, and the typical method of testing 2G and 3G MPCAs using diagrams and graphical representations. Easy operation enabled by the IFR 3410 Series' touch screen is stated, illustrating the use and benefits of IQCreator(TM), a software support package included with the instrument, and includes screenshots of the VSS Vector Signal Simulation waveform creation software from Celerity, which is also available with the IFR 3410 Series.
Read More »
New XA Spartan-3E FPGA Automotive ECU Development Kit accelerates design for infotainment, driver assistance and driver information applications LAS VEGAS, Jan. 7 -- At the Consumer Electronics Show (CES) today, Xilinx, Inc. (NASDAQ:XLNX), the world's leading programmable logic supplier, announced immediate availability of the Xilinx Automotive (XA) Electronic Control Unit (ECU) Development Kit,...
Read More »
Builds on successful track record CAMBRIDGE, Mass. and ST. LOUIS, Jan. 7 - Verenium Corporation (NASDAQ:VRNM), a pioneer in the development of high performance specialty enzymes and a leading developer of cellulosic ethanol technology, and Bunge Oils, Inc., a part of Bunge North America, the North American operating arm of Bunge Limited (NYSE:BG), announced today that they have signed a new...
Read More »
Compatible with any SMT production environment, Surface Mount Clean Machine features fully adjustable internal conveyor system, 4 high performance elastomer rollers, 2 rolls of pre-sheeted adhesive film, and integral anti-static facilities to prevent recontamination. It is compliant with PLC Talk & Listen and SMEMA protocols, and includes double/single sided board cleaning as well as by-pass...
Read More »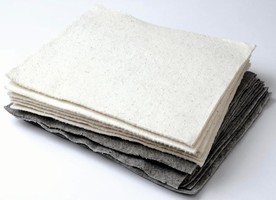 Featuring woven construction, Oil Eater absorbent pads promote safer and cleaner workplace while helping companies meet OSHA and EPA requirements. Oil Only Pads and Rolls soak up oil and repel water; Universal Pads and Rolls soak up oil, water, and other liquids; and Absorbent Socks are used to control larger spills and protect drains. Products are available in various weights and finishes,...
Read More »
With 3 hp blower and non-ferrous 3,450 rpm impeller, cartridge-type Model D1000 extracts adjustable 1,000 cu-ft of air/min. Unit is fabricated in continuously welded 12-gauge steel plate with overall dimensions of 112 x 40 x 50 in. Two pleated paper cartridges each have filter area of 226 sq ft and provide average efficiency of 99.99% for particles of 0.5 micron or larger. Automatic pulse jet...
Read More »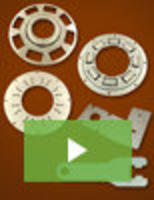 PDS is an established leader in progressive die stamping, with a reputation for providing precision and value that dates back more than half a century. Through extensive capabilities and a staff of seasoned professionals, we set the standard for quality, delivering flexible services that can meet the needs of the most challenging requirements. See our video to learn more.
Read More »