Provides up to 400 Mbps Support that Enables Cost-Effective, Triple-Play Services to Multi-Dwelling Units in China BEIJING - ICTC 2010 - Broadcom Corporation (Nasdaq: BRCM), a global leader in semiconductors for wired and wireless communications, today introduced a customized, highly integrated and cost-efficient DOCSIS® Ethernet over Coax (EoC) for Ethernet Passive Optical Network (EPON)...
Read More »
Features TR-069 and OMCI Management Software Enabling Carriers to Utilize Existing DSL Management Infrastructures for Continuity and Fast Time-to-Market for GPON Deployments PARIS -- Broadband World Forum 2010 -- Broadcom Corporation (Nasdaq: BRCM), a global leader in semiconductors for wired and wireless communications, today announced the availability of its BCM6818 Gigabit Passive Optical...
Read More »
Next-generation DTV chip guarantees playback of DivX Plus HD 1080p video playback with advanced features in the MKV container SAN DIEGO, Oct. 26 - DivX-®, a division of Sonic Solutions-® (Nasdaq: SNIC), today announced the DivX Plus(TM) HD Certification of the latest range of MStar Semiconductor digital TVs (DTVs) chips. This is the first MStar DTV chip certified to power DivX Plus HD video...
Read More »
This white paper provides an overview into what to look for in an optical partner.
Read More »
Integrating features and functionality of entire line card into one chip, Broadcom-® BCM88600 series enables creation of scalable and modular switching platforms with capacity from 100 Gbps to 100 Tbps. Multiple chassis of different sizes can be interconnected via 2-stage fabric element organization, delivering 10,000+ wire-speed ports of 10 GbE or 40/100 GbE equivalent. Single stream of 100 GbE...
Read More »
Integrating processor engine and controller, SC6600L6 allows up to 4 GSM SIM cards to be run simultaneously in single mobile handset. It supports different multi-SIM options - dual SIM, triple SIM, and Quad-SIM - in single set of baseband and RF chip, promoting flexibility for handset designers to meets need of users from different regions. Users can freely switch among different GSM SIM cards....
Read More »
Vinculum-II delivers increased capabilities and memory at a reduced cost Mansfield, Texas, USA - Mouser Electronics, Inc., known for its rapid introduction of the newest electronic components and technologies, today announced it is stocking the Vinculum-II Embedded Dual USB Host Controller IC from FTDI, a specialist in easily converting legacy peripherals to USB. Mouser's stock includes the FTDI...
Read More »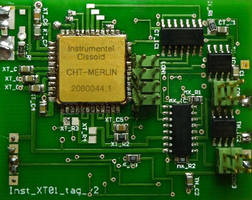 Mont-Saint-Guibert, Belgium and Leeds, United Kingdom - CISSOID, the leader in high temperature semiconductor solutions, and INSTRUMENTEL, a leading supplier of wireless telemetry solutions, jointly announce a global partnership to provide the MERLIN integrated circuit, the world's first high-temperature, battery-less telemetry chip for sensing tags. The MERLIN integrated circuit is a highly...
Read More »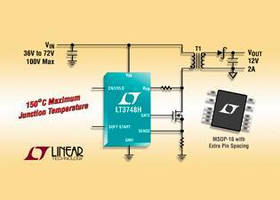 With input range of 5-100 V, Model LT3748H operates in boundary mode, current-mode control switching scheme, resulting in -
Read More »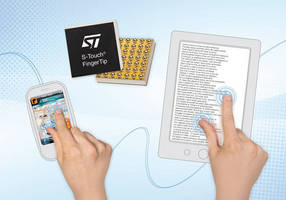 Single-chip S-Touch-® FingerTip controller supports unlimited simultaneous touches, multitouch actions such as pinch-to-zoom, and stylus operations. Widescreen capacitive touchscreen controller utilizes noise cancellation to support on-cell LCD technology without requiring ground shielding layer between display and touch sensor. Offered in QFN 56, 7 x 7 mm or flip-chip CSP 49, 3 x 3 mm packages,...
Read More »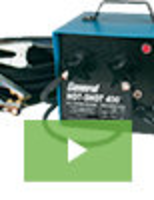 The new Hot Shot Pipe Thawing Machine delivers an innovative and highly effective approach to thawing frozen pipes. Easy to use and versatile, it is loaded with robust features that further suit it to many challenging environments. To learn all about it, see our video.
Read More »