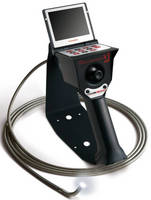 Equipped with 1/6 in. CMOS imaging device, Orion Videoscope produces live image with 525 x 480 resolution on integrated 3.5 in. TFT LCD monitor. Images or video can be captured to microSD memory card or directly to computer HDD via USB connection. Standard 4-way, 90° tip articulation lets operator rotate 360° circle or navigate corners with 90° field of view. Available in 1.5,...
Read More »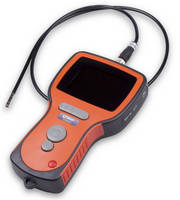 Orion Videoscopes have 0.16 in. insertion probe with integrated CMOS Video Camera chip to provide exact view of inspection area. While 4 LED lights deliver even illumination, light intensity is controlled by dial on monitor which lets user see every detail. All live images are displayed in color on integrated LCD screen, built with oil- and scratch-resistant tempered glass. Other features include...
Read More »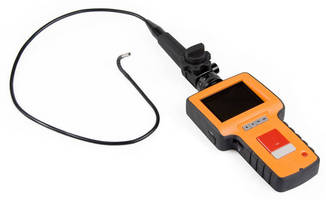 Featuring 6 mm dia, SIRIUS can articulate around corners while capturing images or video. Portable inspection device accomplished latter with 2.2 mm CMOS video camera chip located directly in tip, producing 780,000 pixels. Live images are displayed in color on 3.5 in. TFT LCD, and 4 white LED lights located in probe tip illuminate inspection area with controllable intensity. Along with 1-16 GB SD...
Read More »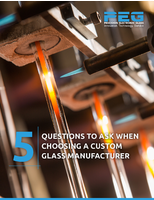 Due to the inherent complexity of glass fabrication, many professionals seeking glass services know exactly what kind of part is needed, but are unclear on the intricacies of the actual manufacturing process. PEG's exclusive guide is designed to help professionals navigate the custom glass manufacturing process with valuable information.
Read More »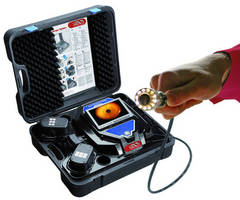 Portable Videoscope System offers miniature, 1 in. dia, 120° FOV, color CCD camera head or 1.5 in. dia, 360° pan and 180° tiltable, color CCD camera head. Mounted to end of flexible, retractable push rod, waterproof camera includes LED lighting and is able to negotiate 90° bends. Features include high-resolution, 7 in. wide TFT monitor; 4 GB memory card with mini USB port...
Read More »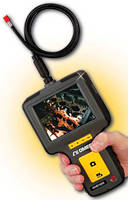 Measuring 8.5 x 4.7 x 1.4 in., portable HHB1600 comes with 3.3 ft probe, 3.5 in. monitor, camera, and video. Hand-held system is CE marked and automatically adjusts illumination intensity to environment. Respectively, horizontal, vertical, and diagonal field angles are 46°, 34°, and 56°, and depth of field is 0.4-2.4 in. Still images in JPEG format up to 640 x 480 and video in...
Read More »
Through small opening in furnace wall, FTI-Eb Borescope uses Land FTI-E thermal imaging camera to accurately profile temperature from over 110,000 individual points. Water-cooled and air-purged camera lens withstands temperatures to 2,192°F and is designed to provide wide-angle view inside furnace. Unaffected by hot CO2 and H2O found in combustion atmospheres, system also features optional...
Read More »
Company Endorses Processing of 29 Olympus Small Diameter Flexible Endoscopes with STERRAD® NX Sterilization System CENTER VALLEY, Pa., January 7, 2010-Olympus, a precision technology leader creating innovative opto-digital solutions in healthcare, life science and consumer electronics products, today announced the compatibility of 29 Olympus small diameter flexible endoscopes with the...
Read More »
Able to bend in 4 directions, GIF-XP180N measures 5.5 mm dia at distal end as well as insertion tube to aid insertion capability and patient comfort. Narrow Band Imaging(TM) (NBI) technology filters white light to consist of specific wavelength bands, enabling observation of microvessels and subtle changes on mucosa. Features promote flexibility in obtaining clear views and visual contrast to...
Read More »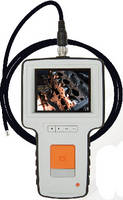 Equipped with 3.5 in. LCD screen, MIG Video Borescope enables users to see, capture, and share still or video images of tight areas. Self-contained instrument uses 1 GB memory card for image capture and 4 LED lights in 3 ft watertight cable to illuminate without burning or explosion risks. With CMOS image sensor chip in 5 mm mirrored insertion tip, cable provides 67° field of view and...
Read More »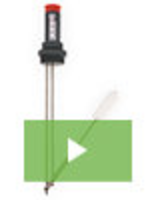 Krueger Sentry Gauge, a leader in chemical sight gauges, now offers the ultimate in aggressive liquid storage monitoring devices. From sulfuric and hydrochloric acid to bleach, and acetone, our products are designed with robust features that deliver a long and trouble-free service life. See our video to learn all about this new and innovative line of sight gauges.
Read More »