Compatible with Windows-® 7, ECS GeForce GT 240 series has 96 processor cores and incorporates 128-bit GDDR5 512 MB/1024 MB at 1,700 MHz memory clock. Unified architecture dynamically allocates processing power to geometry, vertex, physics, or pixel shading operations. Along with embedded HDMI connector, all solid capacitor, and Arctic Cooling fan, features include NVIDIA-® CUDA technology to...
Read More »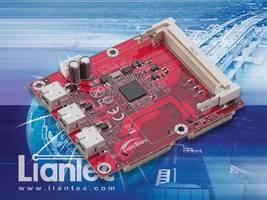 Model TBM-1450 Tiny-Bus-® PCI Express based 3-port IEEE1394b FireWire 800 host extension module integrates LSI-Agere PCIe FW643 FireWire host controller and Mini-PCI type-IIIA/B socket. It also includes 3 external FireWire 800 ports, with 1.5 A/+12 V power output on each port. Suited for small form factor industrial x86 PC-based computing platform, unit supports 100/200/400/800 Mbps data...
Read More »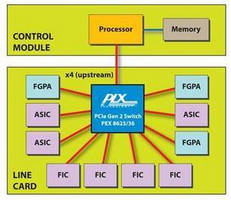 Meeting connectivity demands of complex communications systems, PLX-® ExpressLane(TM) PEX 8625 (24 lanes, 24 ports) and PEX 8636 (36 lanes, 24 ports) are designed primarily for control plane to provide connectivity to endpoints such as ASICs and FPGAs. Multicast capability allows each host to communicate to all endpoints simultaneously, while multi-host feature provides multiple upstream ports...
Read More »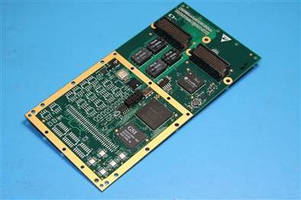 Model RXMC-1553 High-Density XMC module offers 1 or 2 dual-redundant channels, each supported by 1 MB memory. Its multifunction interfaces are configurable to emulate bus controller, up to 31 remote terminals, or bus monitor. Supporting Windows-® and VxWorks-®, conductively cooled module is designed for use in harsh environments. It includes 45-bit microsecond message time tagging, triggers,...
Read More »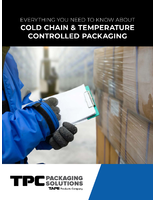 This ebook provides an overview of everything you need to know about cold chain and temperature-controlled packaging.
Read More »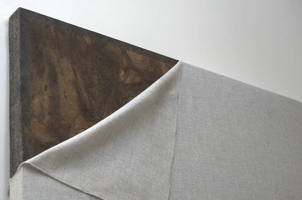 Kinetics Noise Control Inc. has converted all major acoustical fiberglass based product lines to a more earth-friendly core material. These fiberglass board and blanket materials are produced by Knauf using their revolutionary ECOSE® technology. This new fiberglass production technology uses bio-based binder materials replacing the non-renewable petroleum-based chemicals used in traditional...
Read More »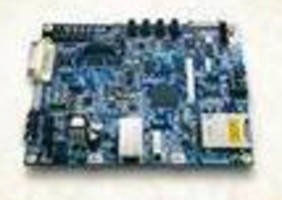 RoHS-compliant MS7724 platform for SH-Mobile R2R (SH7724) enables accelerated development of systems incorporating SH-Mobile R Series application processor for mobile devices. Included software for developing systems running Linux OS allows immediate evaluation of device. Platform covers most functions of SH7724 while providing additional functions designed for flexible system development....
Read More »
Measuring 68 x 26 mm, TRITON-TX51 is 200-pin SODIMM module based on Freescale i.MX51 device which features 800 MHz ARM-® Cortex-A8 core with NEON Floating Point Unit, PowerVR graphics engine, and video codec with up to 720p resolution support. Module operates from single 3.0-5.5 V supply, provides 128 MB mobile DDR400 RAM and 128MB NAND Flash as well as power management and external real-time...
Read More »
Designed to work with fixed-FPGA NanoBoard 3000 and fully-configurable NanoBoard NB2, Prototyping Peripheral Boards eliminate need to create custom PCBs for circuit prototyping. Single on-board connector plugs into NanoBoard to give direct access to I/O on host NanoBoard FPGA and common NanoBoard resources, including power and JTAG lines. Pre-defined land patterns for SMDs accommodate pitches of...
Read More »
Fully compliant with 4-lane MIPI CSI-2 standard, GPirates Series GPLAB-CLSYS is comprised of evaluation systems for images from CMOS image sensors. Included capture board features 4-lane PCIe serial interface to constantly capture data at 3.2 Gbps max (800 Mbps per lane) when connected to 4-lane MIPI CSI-2 product. Offering image capture software and multiple boards, suites help users build...
Read More »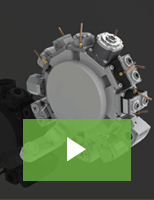 Von Ruden's driven tools are designed to each specific machine in order to maximize performance. All of our tools are performance tested and made in the USA per ISO 9001:2015 standards. Check out our video to learn more.
Read More »