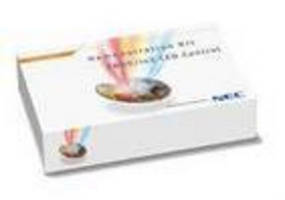 With 78K0/Ix2 LED microcontroller demonstration kit, users can see how efficient and intelligent LED driver design can be implemented without requiring additional driver ICs. Based on 78K0/Ix2 lighting ASSP, kit features 3 channels of RGB LEDs populated on board together with relative 3 slide switches for analog dimming demonstration. Additionally, connectors for DALI and DMX512 interfaces are...
Read More »
Implemented in FPGA logic, combined with bus master capable PCI interface, TAMC863 AMC.1-compliant module supports several serial communication protocols on each channel, including asynchronous, isochronous, synchronous, and HDLC mode. Max data rate of 10 Mbps is provided for synchronous protocols and 2 Mbps is supported for asynchronous protocols. Operating from -40 to +85-
Read More »
Providing 32 or 16 channels of 16-bit analog outputs, single-wide 32-bit Model TPMC554 features software selectable output voltages of 0-5, 0-10, 0-10.8, -
Read More »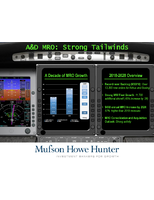 Check out this overview of the Maintenance, Repair and Operations (MRO) segment of the Aerospace and Defense (A&D) industry along with the factors impacting its continued growth.
Read More »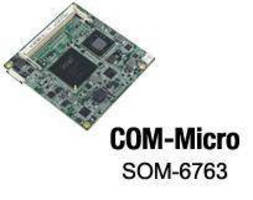 Irvine, California, January. 14, 2010 - Advantech, a leading provider of embedded platform and integration services, announces today its new full range of embedded boards based on the new generation of Intel-® Atom(TM) N450/D510 processors. The Advantech Atom processor-based platforms range from Computer-On-Modules and 3.5 /5.25 Single Board Computers to Industrial Motherboards. These low-power...
Read More »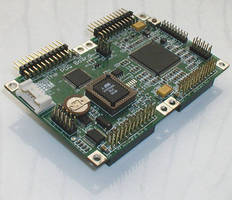 Measuring 2.5 x 4 in., PDQ Board(TM) includes Motorola 68HCS12 processor, 1 MB memory, and dual-expansion I/O buses. It has 8 digital I/O lines with counter/timer capabilities, 8 PWM digital output signals, and 8 general purpose digital I/O lines. Unit also has 16 analog inputs with 10-bit resolution, dual RS232/485 ports, and synchronous SPI and IIC serial interfaces. Up to 8 I/O modules, called...
Read More »
Consuming 10 W (typ), XP A40/x03 board features Intel-® System Controller Hub US15W, up to 2 GB DDR2-533 SDRAM and 4 GB NAND Flash, as well as various I/O interfaces. It can be used on PMC/XMC carrier board or on host CPU board. Solution interfaces to various base boards via 64-bit PCI/PCI-X (up to 133 MHz) interface with PMC option or via x1 PCIe-® interface with XMC option. PMC supports...
Read More »
Based on HomePlug AV-® (HPAV)-compliant INT6400 chipset, Powerline Communications System Development Kit supports UART serial interface, suitable for connecting to variety of CPUs found in smart grid applications. Kit features low power consumption of less than 100 mW in sleep mode. Available in 0-70-
Read More »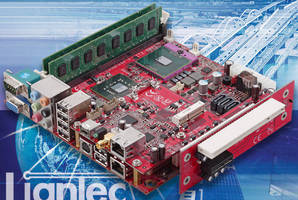 Featuring 4 x1 PCIe and 2 PCI bus interfaces, TBM-X2000 Tiny-Bus-® 1U low profile 2-slot PCIe/PCI extension module makes it possible to let Mini-ITX SFF platforms support optional dual PCIe/PCI expansion slots within 1U or 1.75 in. of system height. Solution is also integrated with onboard PCIe Intel Gigabit Ethernet, PCIe IEEE1394b FireWire 800, and PCIe MiniCard socket with external SMA...
Read More »
Provides high-performance dual-band solution for rugged mobile devices Akron, OH -- Summit Data Communications (http://www.summitdatacom.com), the leading provider of industrial-strength embedded Wi-Fi® solutions, today announced its first radio module with support for 802.11n, the recently ratified IEEE standard for high-performance Wi-Fi. Designed for mobile computers and other rugged mobile...
Read More »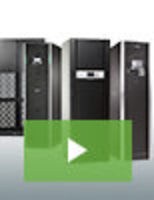 At 3Sixty Mission Critical, we specialize in maintaining the performance and uptime of our customer's mission-critical applications. Our services are comprehensive and designed to take on the entire burden of maintenance. Our "UPS as a service" is just another example of how we develop out of the box solutions to help our customers operate more efficiently; see our video to earn more.
Read More »