Siemens Subsea Products has chosen an all-electric tube bender from Unison to improve the quality and speed the production of the small-bore hydraulic tubes it uses on subsea hydraulic flying leads with Multiple Quick Connections (MQC), Cobra Heads and associated offshore oil and gas recovery equipment. The tubes feature complex bends of extremely high accuracy, and until now the company has...
Read More »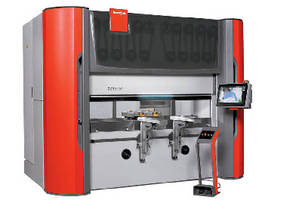 Powered by dual electric motors, Xcite 80 E offers seamless speed transitions without lag times. Fast Bend+ safety system enablesÂ- upper tool to be positioned very close to metal sheet without placing operator in any danger. Providing speed, power, and constant pressure along entire bending length, Force Dynamic Drive ensures that minimal deflections occur in both upper and lower beam,...
Read More »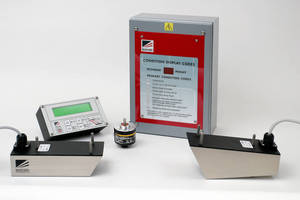 This September saw the publication of the new ANSI B11.3 - 2012 standard for press brakes. A key addition to the standard is the inclusion of close proximity point of operation safeguarding devices. Also known as Laser AOPD, the technology behind these devices was relatively new to the global press brake market ten years ago and at the time of the last B11.3 review in 2002 Laser AOPD systems were...
Read More »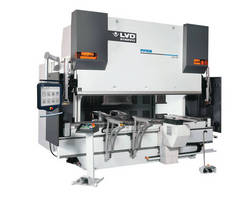 Akron, NY - LVD Strippit will display an Easy-Form® 135/30 servo-controlled press brake featuring the Easy-Form® Laser adaptive bending system at FABTECH, booth C3937. The Easy-Form press brake is part of the PPEB Series of press brakes available in working lengths from 5' to 50' (1.5 to 15 m) with tonnages up to 3000 tons. LVD Strippit's Easy-Form and PPEB series of precision press...
Read More »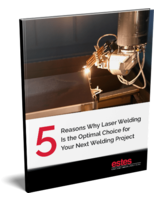 This white paper outlines the advantages of laser welding.
Read More »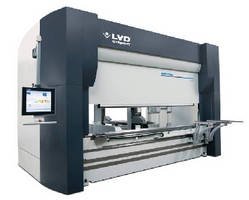 Intended for small to medium batch production, ToolCell Hydraulic Press Brake features 10 ft configuration with bending force of 150 tons. Library of top and bottom tooling isÂ- housed within tooling stadium located under machine's backgauge. Gripper design, built into machine's backgauge finger, allows backgauge to serve as tool changer mechanism. Equipped with Touch-B 19 in....
Read More »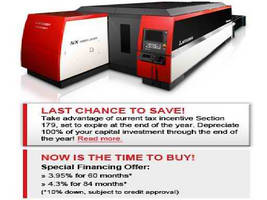 Wood Dale, IL - Mitsubishi will unveil a brand new Fiber Laser line at Fabtech 2012, to be held in Las Vegas Nov. 12-14. There are plenty of fiber laser systems available out there, but you've never seen one like this before. The revolutionary new 3015 NX-F Fiber Laser will come standard with a fiber laser oscillator, a z-axis linear drive, head preset auto-focus processing, a 64-bit NC with...
Read More »
New tooling equipment, including new rotoline oven, reinforces company's commitment to best-in-class customer service Latta, S.C. - Diversified Plastics, Inc., a leading manufacturer of material handling containers and plastic carts, has expanded the capabilities of its manufacturing process with the addition of several new pieces of high performance machinery, including a new, state-of-the-art...
Read More »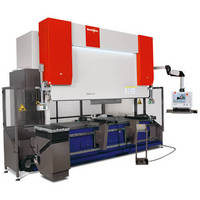 (Elgin, IL) - Bystronic Inc., Elgin IL will introduce new products to their Laser, Bending and Software product lines during Fabtech, November 12-14, 2012, in Las Vegas, NV. In addition, the new Bystronic Xpert, equipped with never before seen features, will demonstrate even faster and easier operations than ever before. With the world's most comprehensive database in material bend allowances and...
Read More »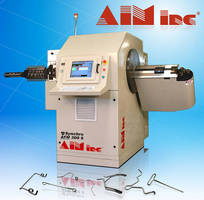 In addition to turret tool changer with 3 satellite mandrel benders, Synchro Bender includes 2-plane straightener, 2000 Kgr automatic payoff unit, servo quad-roller feeder, bender axes, unlimited arm (Z-Axis) rotation, and IPC running Windows® and SmartEditor®. Preloaded graphics animation allows for program/data verification before running production parts, and wire can be fed directly...
Read More »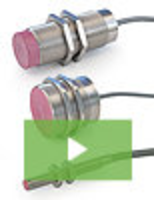 Locon Sensor Systems offer robust sensor solutions for even the most severe environmental conditions. Their line of high-temp inductive sensors and their cylindrical photoelectric series can operate in temperatures up to 250 degrees Celsius. See our video to learn more.
Read More »