Energy-efficient StoTherm Lotusan NExT(TM) integrates StoGuard(TM) waterproof air barrier, StoTherm® insulated wall cladding, and Stolit® Lotusan® textured finish with self-cleaning properties. Consisting of spray-on building wrap, StoGuard protects against moisture intrusion and air leakage, while StoTherm provides blanket of continuous insulation that protects exterior from...
Read More »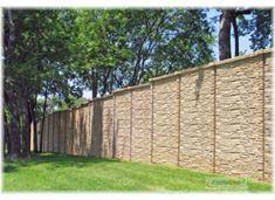 R & M Equipment Co. in Royersford, Pa announces a new line of noise control walls from ArtUSA Noise Control Products Inc. The ArtCrete Modular Pre-Cast Concrete Fencing system is a light weight, pre-engineered wall system that uses interlocking panels and posts made of high-performance fiber and steel reinforced pre-colored concrete. Uses include screen walls, perimeter fences, buffers and sound...
Read More »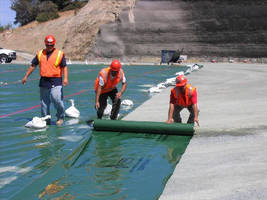 Featuring polyolefin-based resin/chemical technology, PERMINATOR® helps minimize penetration of moisture and water vapor through slab into structure, thereby helping to reduce fungus, mildew, and mold growth. Product also helps prevent radon gas from entering structure. Available in 10 and 15 mil thicknesses in 200 ft long rolls, PERMINATOR helps meet and maintain maximum slab moisture...
Read More »
Check out this white paper to learn about the benefits of dry ice blasting.
Read More »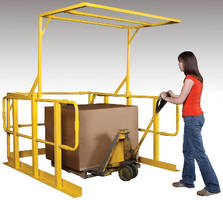 Designed to help meet code requirements for safety during forklift loading and off-loading, surface-mounted Pivot Safety Gate provides properly guarded area for personnel working on pallet at edge of balcony or mezzanine. It comes standard as 10 ft wide and can be cut at job site to fit specific opening. When one side is raised, other side closes to promote accelerated and safe access by...
Read More »
Suited for food and other processors, Curtain Walls eliminate sanitation concerns about washdowns splashing nearby active processing operations. Slick surfaces, able to shed water and soils, are available in 40 mil PVC, 40 mil USDA grade PVC, or 40 mil antimicrobial PVC. While welded seams eliminate trapped contamination, top-to-bottom transparency promotes visibility and brightness in working...
Read More »
CARROLLTON, TEXAS - December 5, 2008 - B&B ARMR Corporation, a subsidiary of Integrated Security Systems, Inc. (OTCBB Symbol: IZZI), announced today that they have completed a project valued at over $100,000 to supply B&B ARMR Model 820 barriers to a major regional petro-chemical storage and distribution facility in Southeast Asia. The new barriers will increase security and allow for improved...
Read More »
Grand Forks, ND, November 22, 2008 - PS DOORS has received FM Approvals Certification on its flood protection barrier products. In accordance with FM Approvals' Standard 2510, FM Approvals tested PS DOORS' flood protection products to the rigorous standard, which included performance testing, deployment testing, hydrostatic loading, dynamic impact loading, materials testing, and a company...
Read More »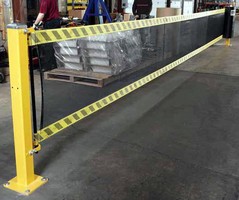 Featuring 4 x 4 x 49 in. steel mounting posts powder coat painted safety yellow, SpanGuard Safety Barrier separates and defines work areas, walkways, and floor openings. Spans of 30 and 60 ft are available, and entire system can be positioned or removed by one person in less than 2 min. For opening widths under 30 or 60 ft, excess curtain can be retracted into storage cylinder. System supports...
Read More »
Made from recyclable polycarbonate plastic modules, AcoustiClear(TM) serves to reduce sound levels while allowing for up to 80% of light transmittance. Solution is corrugated on both sides, and modular panels allow for flexibility in design, expansion, and portability. Able to be installed using posts of steel, high-strength composites, or concrete, clear noise barrier wall system suits projects...
Read More »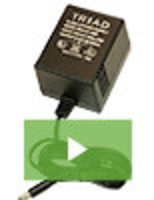 Triad Magnetics, an established leader in power supply design and manufacturing, is proud to announce their next generation WAU AC and WDU DC Series of power supplies. These linear wall plug-ins offer minimum noise performance without sacrificing reliability or life. See our video to learn more.
Read More »