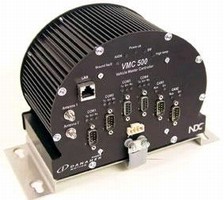 Supporting up to 10 ac drives per AGV, NDC8 v1.4 hosts industry-standard OPC client, allowing for smooth connection to any I/O resource. Curve-editing tool gives engineer freedom to adapt each AGV layout to suit application, while spline-based flexible curves allow for increased speed at corners, and route-planning tool helps users limit and avoid AGV traffic congestion. OpenPCS PLC programming...
Read More »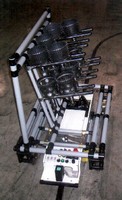 Featuring low profile design, BST AGV Drive Unit consists of drive motor, 24 Vdc power supply, control electronics, and guidance sensors. Unit travels along magnetic tape guide path, glides under stationary push cart, and engages cart by extending catch pin into cart's frame. Drive then conveys cart to required workstations or load/unload points and disengages from cart. Offering capacity of...
Read More »
Friedrichshafen, April 13, 2006 - ND SatCom, a leading global provider of satellite-based communication network solutions for commercial and defence applications, has together with its partner BASE TEN finalized the world's first unmanned 'Satcom on the Move' controlled robotic vehicle system, RoboScout®, to the German Armed Forces. The demonstration presentation of the vehicle marked the...
Read More »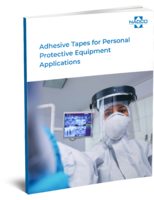 This ebook provides an in-depth overview into adhesive tapes for personal equipment applications.
Read More »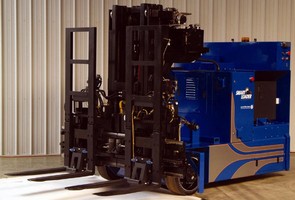 Designed for 24/7 trailer loading and warehousing, SmartLoader(TM) provides unmanned solution that adapts to various trailer sizes and skew angles without manual modification. Inertial guidance system relies upon transponders embedded in floor that identify its exact location. AGV maneuvers around warehouse utilizing Vehicle Control Computer, which maintains intended path and performs required...
Read More »
On October 8, 2005, a driverless Volkswagen Touareg SUV named Stanley completed a 132-mile course through the Mohave Desert in Nevada in six hours and 53 minutes to win a $2M prize. The contest, known as the DARPA 2005 Grand Challenge, was sponsored by the Pentagon to encourage the development of robot-guided vehicles to make the transport of supplies in hazardous zones safer for humans. The...
Read More »
Using laser guided system, Automated Guided Vehicle features lift capacity of 2,000 lb, 2-stage mast for 110 in. vertical lift, and can travel at 230 fpm. By adding AGV to palletizing process, manufacturers can eliminate use of pallet conveyors and damage caused by human error. Supported by Danaher NDC8 platform, driverless automated forklift can be navigated through manufacturing plants using...
Read More »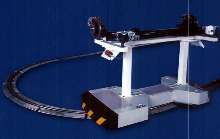 Modular and reconfigurable, FlexTrolley ARGV System(TM) combines precision of chain conveyor with independent control of AGV. Each part is fixtured and mounted on self-driven wheeled trolley, guided along slotted track on floor, which runs between stations on line. Full 360-
Read More »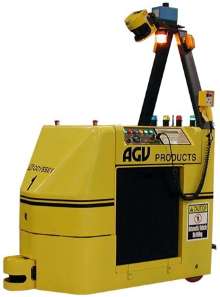 Included in Odyssey line of Automated Guided Vehicles, TW-6 laser-guided robotic towing vehicle is rated with 6,000 lb capacity but can pull as much as 13,000 lb. Features include dual laser bumper systems, automatic unhitch and tow design, and point-and-click function that facilitates guidepath changes. Modular design accommodates different battery and drive configurations, and hitch package can...
Read More »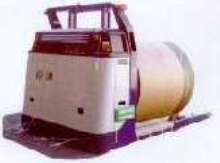 Automated Guided Vehicle (AGV) helps automate process of handling rolls; it handles loads of varying sizes and weights with minimal product damage. Roll handling vehicles are available in fork, probe, lift, and clamp types, all of which are offered with various forms of navigation including laser guidance. Vehicle also incorporates non-contact safety bumpers.
Read More »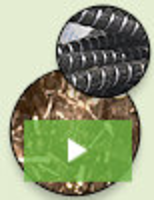 Fiber Reinforced Polymers (FRP), represents a truly groundbreaking advancement in structural reinforcement. Lightweight, strong, and green, they are changing the way the construction industry thinks about rebar. Unlike steel, FRPs don't rust and are far stronger than standard rebar. To learn why Fiber Reinforced Polymers are poised to change the way the world builds, see our video.
Read More »