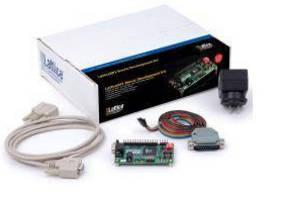 At a Promotional Price Until 30. October 2010 Lattice Semiconductor Corporation (distribution: MSC Vertriebs GmbH) launched the new versatile LatticeXP2(TM) Brevia Development Kit and 28 new silicon-proven reference designs. They are ideal suited for developing high volume, cost sensitive, high density applications. The low cost Brevia Development Kit is currently available for a promotional...
Read More »
Featuring up to sixteen 6.375 Gbps transceivers, 40 nm Arria II GX FPGAs are suited for wireless, wireline, test, medical, and storage applications. Arria II GZ FPGAs are equipped with up to twenty-four 6.375 Gbps transceivers, 400 MHz DDR3 interfaces, and up to 726 I/Os. Providing 1 Gbps LVDS support, both models include 350K logic elements and 16.4 Mb of embedded memory.
Read More »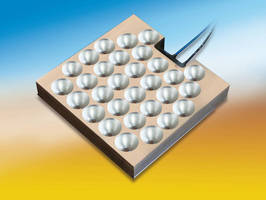 Model OD-850-30-030 NIR LED array features wavelengths from 840-865 nm, with peak wavelength of 850 nm and total optical power output of 16 W. Operating temperature range is from -20 to +100°C and maximum junction temperature is 125°C with thermal resistance, junction to case, of 0.8°C/W. Unit can be stored in temperatures from -40 to +125°C and is suitable for night...
Read More »
Based on Cyclone® FPGAs, HD Surveillance IP Camera Reference Design includes AltaSens' 1080p60 A3372E3-4T and Aptina's 720p60 MT9M033 HD Wide Dynamic Range CMOS image sensors. Apical's ISP combines WDR processing with advanced temporal and spatial noise reduction. Functions such as auto exposure and auto white balance are implemented on Nios® embedded soft core processor. Eyelytics'...
Read More »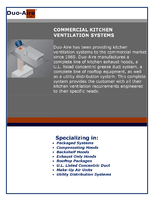 If you can't stand the heat, don't get out of the kitchen! Download this white paper and see how you can improve your commercial kitchen ventilation system.
Read More »
Entire Family of 40-nm Stratix IV FPGAs Now Shipping in Volume Production SAN JOSE, Calif. - Altera Corporation (NASDAQ:ALTR) today announced it is shipping in production the highest density member of its 40-nm Stratix® IV FPGA family. Featuring 820K logic elements (LEs), the Stratix IV E EP4SE820 device is ideally suited for a variety of high-end applications that require high-density,...
Read More »
Stratix IV GT FPGA's Integrated 11.3-Gbps Transceivers Provide an Efficient Way to Bridge 40G Optical Modules in Line Cards San Jose, Calif., -Altera Corporation (NASDAQ: ALTR) today announced the interoperability of its Stratix® IV GT FPGAs with 40G Quad Small Form-Factor Pluggable (QSFP) optical modules from Avago Technologies. QSFP optical modules provide 40-Gbps data rates across a...
Read More »
Recognition Simplifies UL Certification for Bridgelux Customers, Accelerating Introduction of New LED Lighting Products Livermore, Calif. - Bridgelux Inc., a leading developer and manufacturer of LED lighting technologies and solutions today announced that the company has earned Underwriters Laboratories (UL) Recognition for its entire portfolio of LED Array light sources, which includes the LS,...
Read More »
Stratix V FPGAs provide up to 1.1 million logic elements, 53 Mbits memory, and transceivers operating at up to 28 Gbps. Adaptive logic module architecture adds up to 800K additional registers to maximize logic efficiency, while variable-precision DSP block provides high-efficiency and performance across multiple-precision DSP data paths. Designers can reconfigure FPGA parts as other sections...
Read More »
Iomega® StorCenter(TM) ix12-300r Network Storage array is 2U system that supports groups of up to 250 users. It features 4 GbE connections, USB 2.0 ports for support of UPS, 3 Intel Core2Duo CPU, and 2 GB memory. Supporting various OSs, system's EMC LifeLine(TM) software protects data and performs other business tasks. Unit supports RAID 5, 6, 1, and 10 configurations as well as storage...
Read More »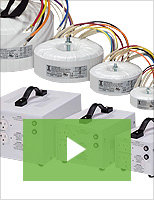 Triad Magnetics' custom components for medical devices are designed and manufactured with the strictest regulatory standards in mind. Our capabilities include rapid design, prototyping, and testing of inductors, transformers, and power supplies for medical equipment. Check out our video to learn more.
Read More »