Combining Virtual Matrix Architecture with Intel multi-core processor-based Engine design and single-phase power, Symmetrix® VMAXe(TM) System can scale up to 4 Engines and up to 960 disk and flash drives. Built-in integration with EMC RecoverPoint replication software enables continuous data protection as well as continuous local and remote replication between VMAXe and other EMC and...
Read More »
Offering two 0201 size resistors in single chip array package, Model RAVF052D is available in values ranging from 3 W to 1 MW, with 5% tolerance. Device features power rating of 0.063 W at 70°C, maximum working voltage of 12.5 V, and maximum overload voltage of 25 V. Applications include memory modules, handheld scanners and barcode readers, base stations, wireless network equipment, and...
Read More »
Paris, France, May 31, 2011 - Sofradir, a leading developer and manufacturer of advanced infrared detectors for military, space and industrial applications, announced today that it has been awarded the contract to provide shortwave infrared (SWIR) arrays for the TROPOMI/S5 - (Sentinel 5 Precursor) mission, as part of the Global Monitoring for Environment and Security (GMES) space initiative. GMES...
Read More »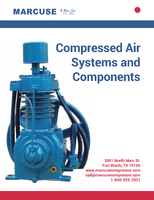 Download this e-book for more information on compressed air systems and components.
Read More »
North Brunswick, New Jersey - May 17, 2011 - Intense Ltd., developer of next generation semiconductor lasers, systems and solutions, will feature a number of new high power diode laser products at Laser World of Photonics in Munich, Hall 1, Booth 400 (IMM Photonics). Among the new technology to be introduced is the Series 8000 793mm Multi-Mode Pump Module. Designed for eye-safe, thulium-doped...
Read More »
Acromag's new VPX FPGA boards deliver maximum performance for accelerated algorithm processing or execution of complex logic routines in embedded computer systems. WIXOM, Mich. - Acromag's new VPX-VLX series of 3U VPX FPGA boards feature a configurable Xilinx Virtex-5 FPGA enhanced with multiple high-speed memory buffers and a high-throughput PCIe interface. Field I/O interfaces to the FPGA via...
Read More »
Dot Hill AssuredSAN 3000 Series and Quantum StorNext Software Deliver High-Speed, Cost-Efficient File Sharing Across Multiple Servers and Operating Environments LONGMONT, Colo. - Dot Hill Systems Corp. (Nasdaq: HILL), a leading provider of Unified Virtual Storage and SAN storage solutions, today announced it has completed all testing of its AssuredSAN(TM) 3000 Series arrays for the StorNext...
Read More »
HP 3PAR Utility Storage helps Samuel A. Ramirez & Co. improve responsiveness, lower costs PALO ALTO, Calif. - HP today announced that Samuel A. Ramirez & Co Inc., a New York-based full-service securities firm, has chosen HP 3PAR Utility Storage, a key element of the HP Converged Infrastructure strategy, to improve customer responsiveness and lower costs. Samuel A. Ramirez & Co., which manages...
Read More »
Powerful Storage for Apple Final Cut Pro and Autodesk Smoke Software Helps Film Makers Create Visual Art, not IT Management Overhead LONGMONT, Colo. - Dot Hill Systems Corp. (Nasdaq: HILL), a leading provider of Unified Virtual Storage and SAN storage solutions, today announced it will be showcasing a newly tested and certified video post-production solution for Apple users at the forthcoming NAB...
Read More »
Newport, Isle of Wight, UK -- RF Engines Limited (RFEL) has announced that it is adding Image Processing IP (Intellectual Property) to its extensive range of Digital Signal Processing (DSP) solutions that run on FPGAs. Several of our existing customers have asked us to develop and implement designs for their projects," explains John Summers, RFEL's CEO. "Just as in the case of our existing area...
Read More »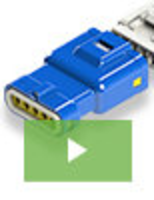 EDAC's new line of IP67 waterproof plug and socket connectors represent the cutting edge of waterproof connection technology. Part of the 560 and 572 series of connectors, they utilize innovative design concepts to deliver a level of performance and value that is unmatched in the industry. See our video to learn more.
Read More »