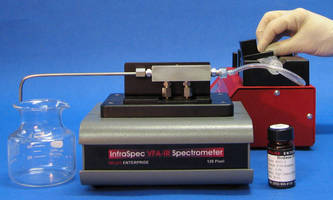 East Norwalk, CT - Seven weeks of on-site tests were recently completed at a major pipeline company in the Southwest to determine the effectiveness of the new InfraSpec VFA-IR Spectrometer, Model EB, for detecting biodiesel contamination in diesel fuels about to enter the pipeline. Over 20 different diesel fuels were tested for the presence of biodiesel and if they would cause false positive...
Read More »
GigaStor(TM) Network Recorder is retrospective network analysis device that saves traffic to disk at full line rate on full-duplex 10 Gb links. It includes 2 ports for monitoring, and Gen2(TM) capture card that utilizes 16-lane PCI Express capture facility and also performs filtering and processing statistics. Capable of storing 192 TB, product helps enterprises validate and manage delivery and...
Read More »
Able to measure 40 GHz S-parameters on up to 4-ports, PC-based and portable SPARQ series acquires waveforms from DUT, measures frequency and time domain results, and outputs standard Touchstone S-parameter files. System calibrates using internal OSLT calibration kit, allowing calibration and measurement to proceed automatically without any need to connect and disconnect calibration standards....
Read More »
Available in 3 sample delivery capacities, Steam Sampling Cart takes critical quality samples for total organic carbon, conductivity, microbial levels, and endotoxin monitoring. All that is needed at identified sampling points are cooling water supply, cooling water return, and clean steam supply. All connections are ¾ in. Tri-Clamp. Product options include electropolished piping, double...
Read More »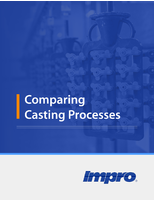 This white paper compares and contrasts common casting processes.
Read More »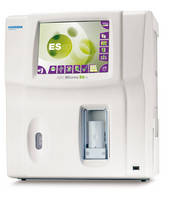 The ABX Micros ES60 Northampton, UK - A study has confirmed that the granulocyte count of the recently launched ABX Micros ES60 3-part differential hematology analyser from HORIBA Medical correlates well when compared to the neutrophil count of a 5-part differential analyser, in the absence of specific flagging. The neutrophil count is a key parameter in determining the treatment outcomes, with...
Read More »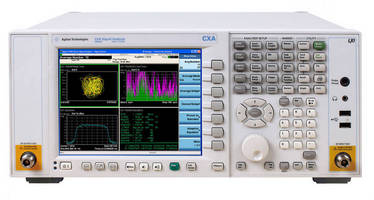 To meet needs of wireless R/D and manufacturing engineers performing wideband signal demodulation analysis, X-Series accommodates various options that accelerate insight into signal analysis and component characterization. Specific options include 40 MHz analysis bandwidth (MXA/EXA), 25 MHz bandwidth (CXA), and Digital IF (MXA/EXA). Additional capabilities include external source control...
Read More »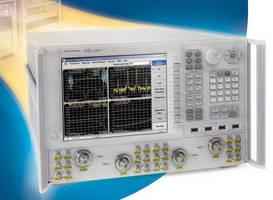 Single-connection N5247A PNA-X Series analyzer delivers +10 dBm output power, 110 dB dynamic range, and 0.1 dB receiver compression point of +11 dBm specified at 67 GHz. Unit provides power leveling, true differential, and frequency converter measurement functions and also conducts S-parameter, noise figure, and intermodulation distortion measurements. Expandable from 10 MHz to 2- or 4-port 110...
Read More »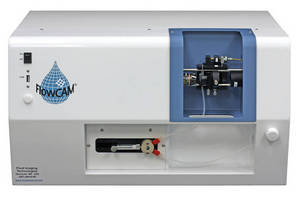 FlowCAM® particle imaging and analysis system integrates syringe pump and flow control software to provide automated process that enables operator to load sample, press start, and leave sample running unatteneded. Achieving sample volume efficiencies up to 90%, it offers real-time detection, imaging, counting, and measurement of particles and microorganisms. Date/time stamps are...
Read More »
Able to characterize 2-port DUTs with continuous frequency range from 10 MHz to 110 GHz, Model ZVA110 is suited for vehicular radar and parking assist systems at 77 GHz, general radar applications at 94 GHz, or wireless backhaul applications in 79/80 GHz range. Base unit offers 4 test ports, 4 integrated signal sources, and 8 receivers, enabling multiport measurements on amplifiers, mixers, and...
Read More »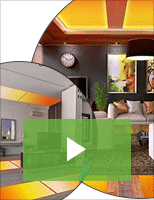 Carbontec's paper-thin radiant heating systems reduce energy consumption costs by warming the building surfaces instead of controlling air temperature. Check out our video to learn more.
Read More »