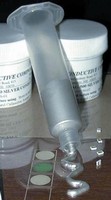 Silver-filled, 2-part epoxy adhesive (EP-600) is designed to attach electrical components to metal/plastic substrates. It accelerates manufacture of PTF circuits built on temperature-sensitive substrates and cures at temperatures from 20 to 140°C with times from 48 hr to 2-6 min; snap cure times are possible at higher temperatures. Elasticity allows for differences in thermal expansion...
Read More »
Formulated without plasticizers, SPUR+ 3100HM and SPUR+ 3200HM high modulus, low viscosity prepolymers contain no free isocyanates, and are suited for use as binding agents in structural adhesive formulations. When cured alone, SPUR+ 3100HM provides tensile strength of 450 psi and Shore A hardness of 40, while SPUR+ 3200HM offers 1,000 psi tensile strength with Shore A hardness of 60. Shelf life...
Read More »
Suited for use in close proximity to sensitive electronic and electrical devices, type SE 1720 CV silicone adhesive starts adhesion to polybuthylene terephthalate (PBT) substrates in 5 min with full adhesion in 30 min at 80°C. Adhesive also suits automotive applications such as case sealing and attaching electronic components for underhood controllers; chassis and brake applications such as...
Read More »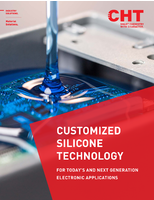 This white paper provides and in-depth overview into the customized silicone technology for electronic protection.
Read More »
Available in 2 kg cartridges, Durus(TM) FullCure® Materials support Eden250(TM) and Eden260(TM) office machines. DurusWhite FullCure430 gives white transparent look and feel of final products made of polypropylene, while also simulating strength of polypropylene. Material features Izod Notched Impact of 44.22 J/m, elongation at break of 44.2%, and modulus of elasticity of 1,135 MPa. It...
Read More »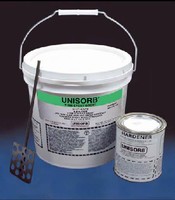 Available in pre-measured and proportioned kit sizes, Ship Safe Standard V-100 contains no regulated compounds according to USA, Canadian, and EU transportation agencies. Being free from hazardous material regulations eliminates fees associated with shipping hazardous classified epoxies. Product comes in 11 lb kit yielding 181.5 cu-in., 22 lb kit yielding 363.0 cu-in., and 55 lb kit yielding...
Read More »
Providing optimal bond when using plastic-to-plastic or plastic-to-glass substrates, NOA 84 cures by UV light with max absorption from 320-400 nm and visible light between 400-450 nm. Clear, colorless, liquid photopolymer adheres to CR-39, polarized film, Delrin®, nylon, cellulose acetate butyrate, polycarbonate, acrylics, and glass. Use of one-component, 100% solids adhesive eliminates...
Read More »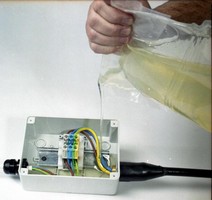 Supplied in safe and self-contained bag, GELSEAL is capable of transforming standard electrical enclosures up to and beyond IP68 rating while offering re-enterabilty and protection against water, moisture, dust, and dirt. Non-toxic gel system, designed for facilitated pouring as well as optimal adhesion and dielectric properties, is suited for encapsulating, sealing, potting, insulating, and...
Read More »
Equipment Partnership Program Streamlines the Integration of LED Production Processes Using Dow Corning's Silicone Materials MIDLAND, Mich., Sept. 22 -- Dow Corning Electronics' LED materials group today announced it has launched an Optimized Manufacturing Process" program, partnering with capital equipment providers to develop integrated light-emitting diode (LED) overmolding processes designed...
Read More »
With mixed viscosity of 22,000 cps, Clear Welder(TM) two-part adhesive is formulated to produce clear bond line on various plastics including acrylics, PMMA, FRP, ABS, PVC, and PETG. It requires little or no surface preparation, has typical hardness of 82 Shore D, and withstands service temperatures from -67 to 200°F. Available in 380 mL co-axial cartridges, unit is mixed as dispensed in...
Read More »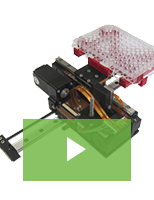 TPA Motion's microplate handling robots are designed specifically for medical instruments and lab automation devices. Check out the video to learn more.
Read More »