Combining alpha capture system, media sentiment engine, and meeting management tool, The Community v3.0 connects buy-side professionals with people and data most likely to add value to investment process. Program consolidates and analyzes unstructured data, ensuring that professionals stay informed about tickers of interest. At push of button, users can go from being alerted to and reading...
Read More »
OptionVue v6 provides professional traders and individual investors with means to select higher-probability opening trades, identify and keep traders out of low-probability trades, as well as identify best strategies to repair existing positions when market conditions change. Able to accommodate quarterly options, software also delivers real-time data and features constant price updates as well...
Read More »
Ingenico On-Guard(TM) encrypts cardholder data, such as primary account number and personal information, from transaction terminal to merchant host, adding additional security layer to magnetic stripe card transactions. Incorporating MagneSafe(TM) security technology, program is available for large and small merchants and is remotely downloaded into transaction terminal. Separate decryption...
Read More »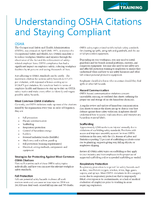 This white paper will individually examine the most common OSHA topics, give solutions on how to meet OSHA workplace standards, and provide a checklist to check your own company's compliance.
Read More »
Working exclusively on IBM Power i platform, N/Compass v11 features 10 applications, including AP, AR, general ledger, fixed assets, billing/order entry, inventory, purchasing, payroll, personnel, and menu security. Program can maintain and manage data on nearly 1,000 different companies, 10,000 departments, and 100 earnings or deduction codes/employee. Version 11 includes customization features,...
Read More »
WatchDOG(TM) for Reg E is based on case management system that guides user through Reg E error resolution, ensuring required procedures and customer notices are completed within defined timeframes. Able to be integrated into financial institution's existing employee work flow, solution offers scripted questions for gathering all relevant information for comprehensive investigation. Built-in...
Read More »
XIAMEN, China, Dec. 27 -- Longtop Financial Technologies Limited ( Longtop") (NYSE:LFT), a leading software developer and solutions provider targeting the financial services industry in China, today announced the official launch of its new E@able(TM) e-banking solution. Based on the Longtop Intelligence Development Platform (LIDP), the E@able product suite is a comprehensive and highly secured...
Read More »
With LoanSpread(TM) 4.75, users can simultaneously compare 135 different loans and generate amortization schedules. Program displays results of loan comparisons on answer grid that is configured with flexible ranges. Loan Summary feature lets users drill down into details of loan being compared by double-clicking on loan in answer grid. Loan Summary window then appears with details such as amount...
Read More »
Automatic updates of UPS fuel surcharge, automatic identification of residential or commercial addresses and AES for international shipments prevents unnecessary charges resulting in millions of dollars saved. Hoffman Estates, IL, December 17, 2008 ADSI announced today the release of 3 key new cost saving features into the industry's leading multi-carrier shipping solution, ADSI Shipper. All...
Read More »
Irvine, Calif. - September 12, 2008 - Sage Software announced today that the latest versions of its Sage Accpac ERP and Sage MAS ERP enterprise resource planning and accounting systems have won top rankings in The CPA Technology Advisor annual Review of Mid-Range Accounting Systems. In the September 2008 issue, reviewer Mary Girsch-Bock awarded 5-Star overall ratings for Sage Accpac 200 ERP 5.5...
Read More »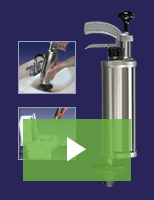 The Kinetic Water Ram by General Pipe Cleaners clears out clogged pipes quickly using kinetic energy. The Ram is so simple to operate, anyone can use it. Check out the video to learn more.
Read More »