Industry Crib Sheet: China's Manufacturing Slump Deepens
Plus:  Small Businesses See Profits Shrink but Remain Upbeat; and Year-End Rush Leaves Equipment Finance Industry Energetic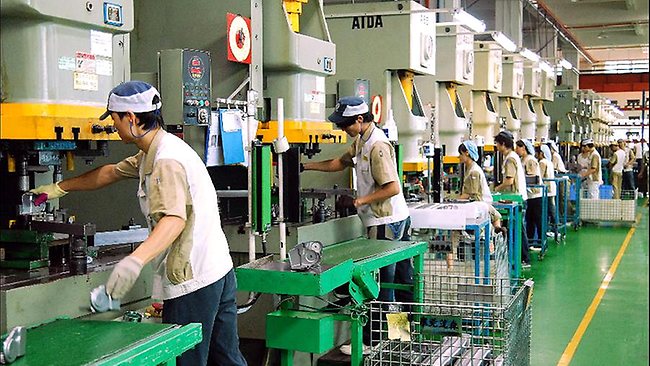 China's manufacturing sector remained flat in November while production output contracted for the first time in six months, in the newest sign that the Chinese economy is weakening further and adding pressure on the Chinese central government to enact additional stimulus actions in order to keep a targeted GDP growth rate of 7.5 percent this year. The Flash China Manufacturing PMI published by HSBC in conjunction with Markit Economics was 50 for this month, down from October's 50.4 final reading. The manufacturing output sub-index fell from October's 50.7 to 49.5, signaling a shrinkage in production from Chinese factories. Economists had forecast a 50.3 headline reading for the month. The October flash reading represents about 85 to 90 percent of mostly small and midsize Chinese manufacturers that participate in HSBC's monthly survey. HSBC will release final November PMI data on Dec. 1. In a reversal of October, Chinese manufacturers received domestic orders at a faster rate this month while orders from overseas continued to grow but a weaker pace. However, factories and workshops in the country continued to cut payrolls, as layoffs accelerated, while backlogs expanded at a softer rate. Weak employment growth has been an increasing concern in Beijing, and manufacturing, a key driver of China's economy, has shed employment all of this year. "The labor market showed further signs of weakening. Furthermore, we still see uncertainties in the months ahead from the property market and on the export front," said Hongbin Qu, HSBC's chief economist for China and co-head of Asian economic research. "We think growth still faces significant downward pressures." China is fighting a property slump, slower investment growth, and slow borrowing growth despite easing of capital access. Economic data released in October by the central government showed the slowest pace of month-to-month growth since the global financial crisis, March 2009. China's third-quarter GDP grew 7.3 percent, versus 7.5 percent in the second quarter. Analysts expect further slowdown in the country heading into the first quarter next year. Meanwhile, according to Markit Economics, the U.S. manufacturing growth weakened further in November, as the month's Flash U.S. Manufacturing PMI hit a 10-month low, ticking in at 54.7. Weaker production output and new business growth were blamed. The U.S. index fell for the third month in a row, following the first back-to-back slowdown since May 2013 and after reaching a four-year high in August with a 57.9 measure. The November flash reading was 1.2 points lower than October's final PMI reading, which, in turn, was lower compared with a 56.2 flash reading for that month. According to the PMI data, incoming new work increased at its weakest pace since January, exacerbating the decline in new export orders resulting from a strengthening dollar and flagging economies of major trade partners. In November, inventories grew marginally and backlogs rose at the slowest pace since January, while capacity pressures were further alleviated by another month of robust hiring by U.S. manufacturers. "The manufacturing sector is undergoing a marked slowdown after enjoying a buoyant summer," said Chris Williamson, Markit's chief economist. "Export market weakness holds the key to the recent slowdown, with manufacturers reporting the largest drop in export orders [in] nearly one and a half years."
Small Businesses See Profits Shrink but Remain Upbeat Small business confidence crept back to its August level in October, led by moderate increases in capital expenditure plans and expected sales. The National Federation of Independent Business' Small Business Optimism Index for October rose 0.8 points to return to 96.1, which back in August represented the second-highest reading for the index since the end of the recession. The "hard" components of the index -- job creation, job openings, capital spending plans, and inventory investment plans -- all were higher than September readings and offset negative sentiment about the economy and current business conditions. Earnings trends declined 1 point in October to a net negative 20 percent of business owners, meaning that small businesses with negative earnings outnumbered those with positive earnings. At a net negative 3 percent for expectations for the economy to improve in the next six months, down 1 point from September, there were slightly more business owners than not who said they don't anticipate a better economy. Businesses that thought now is a good time to expand weakened 2 points to a net positive 11 percent. Capital spending was flat, unchanged from September, at 56 percent, a measure dubbed by the NFIB as "not an especially strong reading." But businesses that plan to make capital outlays rose 4 points to a net positive 26 percent for the month, while those that expect real sales to be higher increased by the same amount to a net positive 9 percent. Plans to increase employment ticked up 1 point to a net positive 10 percent. "Owners are making capital investments and trying to fill positions despite that they cannot anticipate a better economy," said Bill Dunkelberg, the NFIB's chief economist. Rather than spending on investments to meet the needs of expansion, this suggests businesses are making outlays just to remain competitive and stay afloat. In October, firings among firms offset hiring at others, yielding a net gain of zero workers per firm added overall. Job creation plans, while still at a net positive percentage, have weakened over the last two months, coinciding with the softer employment data among small businesses. But 24 percent of businesses reported that there was at least one job they couldn't fill, up 3 points from September. Inventories among small businesses saw moderate improvement. The pace of inventory reduction dropped sharply (a 6 point improvement), with a net negative 1 percent of all owners reporting growth in inventories. The net percentage of owners viewing current inventory stocks as "too low" slipped 3 points to a net negative 3 percent, suggesting that stocks are excessive relative to sales expectations. The net percent of owners planning to add to inventory stocks rose a point to a net positive 3 percent. The net percentage of all owners reporting higher nominal sales in the past 3 months compared to the prior 3 months improved 1 point to a net negative 3 percent, still a sign of troubling weakness. Expected real sales volumes posted a 4 point gain, rising to a net 9 percent of owners expecting gains. Dunkelberg, however, commented that these readings are more reflective of a recession period than one of expansion. Sales are already at historically low levels, but they will need to keep up with wage increases for small businesses to sustain their margins. While down 2 points from the previous month, a net 13 percent plan to raise compensation in the coming months.
Year-End Rush Leaves Equipment Finance Industry Energetic   Confidence among equipment finance business leaders unexpectedly surged in November, as expectations of lease and loan demand, financing business conditions, and the economy all improved. The Equipment Leasing & Finance Foundation's Monthly Confidence Index for the Equipment Finance Industry (MCI-EFI) climbed 3.8 points from October to 64.2, the biggest month-to-month this year and the highest reading since May. The number of executives in the survey who believe business conditions will improve over the next four months rose 4.3 points to 27.3 percent. The number of executives who believe demand for leases and loans to fund capital expenditures will increase over the next four months increased 4.6 points to 30.2 percent. And those who expect more access to capital to fund equipment acquisitions over the next four months jumped 9.8 points to 21.2 percent of survey respondents. The outlook in November brightened from the view in the previous month that would be a momentum slowdown after the seasonal cycle in equipment financing is over. In tandem with the MCI-EFI, the Equipment Leasing and Finance Association, the foundation's parent, is expected to release its October Monthly Leasing and Finance Index (MLFI-25). New business volume for the industry surged 31 percent in September. While George Booth, managing director of Black Rock Capital LLC, said he expects higher-level, more-aggressive demand as year end nears, Mike Romanowsi, president of CoBank Farm Credit Leasing, noted, "We are projecting growth in 2015 but not at the same growth rates that we have seen over the past couple of years." Those in the survey who believe that U.S. economic conditions will get better over the next six months saw a 13.8 percent increase, while there was no month-to-month change among the 3 percent who think the economy will worsen over the same period. That hinted equipment finance executives now see some clarity and stabilizing effects after the midterm congressional elections. "We are hopeful that 2015 will see growth again as the federal government gets back to being more functional," said David Schaefer, CEO of Mintaka Financial. In another sign of strong sentiment, no executives in October rated the current economy as being in poor condition. With better expectations of the upcoming months, they said they plan to hire more employees for their firms and conduct more business development activities, raising spending.