Industry Crib Sheet: Retail Sales Strengthen in October
Plus: Metalworking Machinery Sales Spike in September; and Equipment Rentals Soar in Preference, Study Says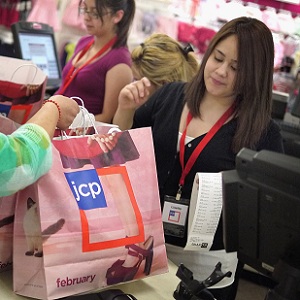 U.S. retail sales rebounded in October, pumped up by falling gasoline prices that left Americans with more discretionary spending dollars. The Commerce Department reported Friday that retail sales rose 0.3 percent last month, surpassing economists' general consensus of a 0.2 percent expansion. September's 0.3 percent decrease in retail sales and 0.4 percent drop in core retail sales, which excludes food service sales, went unrevised. The rise in register activity left economists feeling more bullish about prospects of a strong holiday shopping season. "Discretionary spending improved significantly, sending a clear signal that this holiday retail season is looking significantly brighter,'' said Chris Christopher, director of U.S. consumer economics for IHS Global Insight, in a USA Today report. Consumer spending has been depressed this year, as Americans have remained thrifty with average wages growing at just around 2 percent, despite strong hiring all year long and confidence at a seven-year high. But with gasoline prices well under $3 per gallon and expected to continue falling to under $2.80/gal, consumers should be left with much more money to spend at stores for the holidays. "Oil prices moving lower would be a net benefit from most people's perspectives because it frees up so much potential disposable spending on the part of the U.S. consumer," said Peter Kenny, chief market strategist at Clearpool Group, in a Reuters report. The Thomson Reuters/University of Michigan's preliminary reading on the overall index on consumer sentiment for November came in at 89.4, yet another new high watermark since July 2007. Turning around negative sales in September, home improvement stores and clothing retailers rebounded the most in October, with 0.4 percent and 0.5 percent sales gains, respectively. Car dealerships also rebounded from a September slump to a 0.5 percent expansion in sales. Sales at electronics and appliance stores, however, fell a precipitous 1.6 percent, while department stores struggled yet again with a 0.3 percent fall. Department store sales decreased 1.3 percent in the August-through-October period.
Metalworking Machinery Sales Spike in September U.S. manufacturers lived up to a much-anticipated expectation of a surge in metalworking machinery orders in September, while a solid rise in cutting tool consumption during the month served as a sign that manufacturers began the fall swing with a ramp-up in production activity. September metal cutting, forming, and fabrication machinery sales totaled $647.6 million, a 77.3 percent leap from August, according to the U.S. Manufacturing Technology Orders report published by the Association For Manufacturing Technology (AMT). As expected, manufacturing buyers waited for the biennial International Manufacturing Technology Show (IMTS) in Chicago in early September to make their purchasing decisions, as they did in past "IMTS years." "We now have data to back up the anecdotal reports that IMTS was an exceptionally strong show," said AMT president Doug Woods. "This is a great sign that manufacturers are eager to invest in equipment that will boost their productivity." The "IMTS effect" helped push year-to-date machinery sales to $3.74 billion, 5.2 percent ahead of 2013's pace. Sales this year had mostly trailed last year's pace going into the fall season. September machinery sales were up 61.4 percent year-over-year, compared with $401.2 million in September 2013. The $176.5 million total in cutting tool purchases in September was up 4.6 percent from August, according to the Cutting Tool Market Report jointly released by AMT and the United States Cutting Tool Institute. More telling of a momentum pick-up in manufacturing was the 7.7 percent increase in cutting tool consumption over the same month last year. "The increase for September's cutting tool shipments was not a surprise as the market's expectations were for a strong finish in 2014," said Brad Lawton, chairman of AMT's Cutting Tool Product Group. "There is every indication that the momentum from the fall of 2014 is a harbinger of continued growth in industrial production and cutting tool sales for 2015." The Federal Reserve will release its latest U.S. industrial production report today, with a fresh reading on October manufacturing activity and likely a revision to its earlier 0.5 percent growth measure for September manufacturing output. A separate tracker, by the Institute for Supply Management, shows October manufacturing rose 2.4 percent and the highest production level in more than a decade.
Equipment Rentals Soar in Preference, Study Says  Professionals within construction and equipment financing circles are optimistic that non-residential construction projects will continue to increase in number in the final months of 2014 and on into 2015, according to findings published in the 2014 Wells Fargo Construction Industry Forecast. Notably, the Optimism Quotient, the survey's main standard for gauging the outlook of construction industry executives, is at a historic high of 124, up 18 points from 2013 and up 42 points from the recession low in 2009. This rate of growth is driving an increase in heavy equipment use but not purchases, as highlighted by a drive toward rental equipment, according to a survey conducted by Purchasing.com, which cited the Wells Fargo forecast. Companies and individuals continue to make use of multiple options when financing heavy equipment, including leases and rentals when they are not outright purchases. Often mixing and matching finance options, such as renting before purchase, financial alternatives in combination with environmental regulations were shown to impact the condition and type of machine the buyer would be acquiring. With only three exceptions -- skid steer loaders, excavators, and rough terrain forklifts -- rental preference soared in popularity across the board among survey respondents. The survey was conducted by Purchasing.com in two parts over the last three-plus years, polling more than 70,000 buyers about financing and condition preferences for backhoe loaders, bulldozers, compact track loaders, excavators, rough terrain forklifts, skid steer loaders, and wheel loaders. Business owners, CEOs, managers, and procurement professionals in agriculture, construction, forestry, industrial, waste management, and  facilities maintenance (landscaping, etc) were queried. The first part was conducted from January 2011 to August 2012 and received insights from 43,222 respondents; the second part got 27,907 respondents from January 2013 to this past August. The survey also revealed a jump in requests for multifunction equipment adaptable to a variety of tasks. Increasingly preferred for the cost-saving versatility they provide, compact track loaders are being used to replace larger single-function items like bulldozers. In the survey, compact loaders took a leap in popularity among buyers, up 69.6 percent, due in large part to their ability to accommodate an extensive selection of tools and accessories. Notably, there was also a 52.8 percent decrease in the number of bulldozer requests. Technological advances in machinery have led to companies began requesting new equipment over used machines. From 2011 to 2012, there was a 31 percent increase in requests for new equipment. From 2013 to 2014, there was a 5 percent decrease in requests for used equipment. Machinery most affected includes wheel loaders (up 5 percent), skid steer loaders (up 5 percent), and excavators (up 2 percent). The study research can be downloaded at Purchasing.com.