Trade Show Preview: Advanced Technologies Promise to Pique Imaginations at IMTS
The Emerging Technology Center, the Advanced Manufacturing Center, and Today's Technology Center promise to be manufacturing "imagination stations" for attendees at the International Manufacturing Technology Show by displaying novel applications and the future of manufacturing. At the International Manufacturing Technology Show, IMTS, manufacturers will see new machinery and equipment, as always. But just as exciting will be exhibits called "imagination stations" that show emerging manufacturing technologies and current and futuristic end-user examples of how these technologies will be applied. The Association For Manufacturing Technology's (AMT's) Emerging Technology Center (ETC), the Advanced Manufacturing Center (AMC), and Today's Technology Center (TTC) will be the showcases for such technologies at IMTS in Chicago in September. AMT's Emerging Technology Center For "wow" factor at the ETC, it will be the complete construction of a 3D-printed electric car by IMTS partner Local Motors. Local Motors will build and deliver the first direct digital manufactured vehicle. Designed by the company's global community and built using the material science and advanced manufacturing techniques available at the Manufacturing Demonstration Facility (MDF) at Oak Ridge National Laboratory (ORNL), Local Motors will produce a purpose-built electric vehicle for the urban transportation needs of Chicago. The Local Motors team starts from scratch, employing direct digital manufacturing techniques and technology integration to make the parts and assemble the vehicle. This is a real-world demonstration of achieving sustainable manufacturing by using emerging technologies, such as additive manufacturing, all integrated in a digital environment.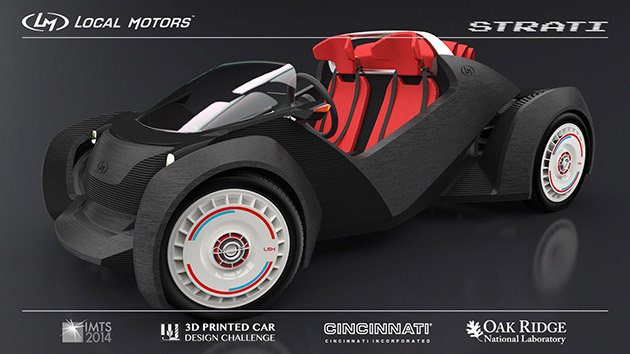 Making certain that U.S. manufacturers can compete globally remains a hot topic. Also at the ETC will be the manufacturing innovation institutes that make up the National Network for Manufacturing Innovation. They will show how regional hubs leverage public-private partnerships to strengthen the position of U.S. manufacturers. IMTS attendees who visit the ETC can expect to see examples of innovation from:
America Makes, focused on growing capabilities, collaboration, and strength in additive manufacturing technologies
Next Generation Power Electronics Manufacturing Innovation Institute, aimed at raising energy efficiency for everything from electronic devices to electric vehicles
Digital Manufacturing and Design Innovation Institute, which will be located on Chicago's Goose Island and will work toward the application of digital technologies to reduce the time and cost of manufacturing
Lightweight & Modern Metals Manufacturing Innovation Institute, concentrating on both the development of lightweight alloys as well as automated manufacturing processes to promote energy efficiency.
Today's Technology Center Today's Technology Center is the IMTS stop where attendees can immerse themselves in technologies for the aerospace, automotive, and medical sectors. Visitors to the TTC can expect to see:
Two examples demonstrating advanced manufacturing in aerospace. There will be a1/3-scale model of the Dream Chaser Space Utility Vehicle (pictured at top) being developed between Sierra Nevada Corp. (SNC) Space Systems and Siemens PLM Software. The aerospace display also spotlights aerial target drones built by Composite Engineering Inc., capable of flying at various altitudes and speeds that serve the needs of the U.S. Department of Defense and its allies around the world.
Two all-American dream cars, one of which is a 2015 Chevrolet Corvette, which pushes the boundaries of materials, engine, and transmission technologies. Stewart-Haas Racing, an exciting team in the NASCAR Sprint Cup series, is bringing the No. 41 Kurt Busch Chevrolet SS, which can reach a top speed of over 200 mph.
Medical device technologies that can be as small as implants invisible to the naked eye or as large as an MRI machine or even larger. Knee, hip, and shoulder implants; stents, pacemakers, and implantable defibrillators; bone screws, plates, and other implements will be incorporated into a clear, life-sized display showing medical manufacturing's impact on people's quality of life. Beyond the implants, medical technology can mean cochlear implants, diabetes pumps, medical tubing, bionic eyes, and prosthetics.
Advanced Manufacturing Center This year's Advanced Manufacturing Center will create a network of solutions for learning more about five trends and technologies that are moving manufacturing forward. Here, displays and presentations by thought leaders will explore:
Additive manufacturing, with displays of DMLS parts from Linear Mold & Engineering and RPM Innovations, a presentation by Greg Morris of GE Aviation, and a 3D-printed model aircraft machine. Visitors will get to see firsthand the technology that makes it possible for manufacturers to economically produce complex components in small quantities.
Automation that, rather than being a replacement for employees, increases the value of an individual employee by freeing this person to focus attention on the work that requires human knowledge or human judgment. A display and presentation by Rethink Robotics in partnership with the co-located Industrial Automation North America trade show will introduce attendees to the Baxter robot.
Automotive 2025, which will have a display incorporating General Motors' Chevy Silverado body in white and a presentation by Ron Krupitzer of the Steel Market Development Institute, a business unit of the American Iron and Steel Institute. Krupitzer will share insights on moving to structures that are strong, light, and capable.
The results of Modern Machine Shop's Top Shops benchmarking survey. Results from this year's survey will be presented with Top Shops Honors Program winners being announced for the survey's four main categories: machining equipment, shop floor practices, business strategy, and human resources. Representatives from those four shops will be on hand to participate in a presentation and a Q&A with visitors.
Trade show visitors at the Advanced Manufacturing Center will learn from leaders in developing and adopting new technologies, network with experts, connect with peers, and walk away with more contacts and resources to help their manufacturing businesses move forward. FURTHER READING:     Divide and Conquer for IMTS Success                                                      Pavilion Format Simplifies IMTS Planning All photo credits: Association For Manufacturing Technology  Whitney Brown is media communications manager for AMT - The Association For Manufacturing Technology. The International Manufacturing Technology Show, IMTS, is produced by AMT - The Association For Manufacturing Technology. Based in McLean, Va., AMT represents and promotes U.S.-based manufacturing technology and its members - those who design, build, sell, and service the continuously evolving technology that lies at the heart of manufacturing. For more, visit AMT's website atwww.amtonline.org. For more information on IMTS and to register your team, visit IMTS.com.