Living Buildings: Like LEED on Whole-Grain Natural Steroids
I'll bet you thought the LEED program was a pretty cool system for developing "green" buildings. Well, get ready for a whole new level of greenness in construction, because here come the "Living Buildings"! The Living Building Challenge is a rating system run by the International Living Building Institute. The organization describes the Living Building Challenge, not as a set of best practices, but as a performance-based standard. A building can only receive certification after it's been built and after it has demonstrated compliance with the standards for 12 months. Living Building Challenge 2.0, the institute's most recent standards document, stresses that the living building concept goes far beyond enumerating a building code. The document calls its standards "the most advanced measure of sustainability in the built environment possible today," "a unified tool for transformative design" that "provides a framework for design, construction and the symbiotic relationship between people and all aspects of the built environment." The organization says "projects that achieve this level of performance can claim to be the 'greenest' anywhere."
Dueling Designs in Cascadia
When it comes to constructing the "greenest" building anywhere, a friendly rivalry has emerged between two groups developing multi-story living buildings in the Northwest U.S., according to a story in Time NewsFeed. Seattle's six-story Cascadia Center for Sustainable Design and Construction will be going up in the center of Seattle. In harmony with the Living Building standard, the building will achieve net-zero water and energy performance, generating 100 percent of its own power on-site through photovoltaic solar panels and furnishing 100 percent of its water through rain harvesting.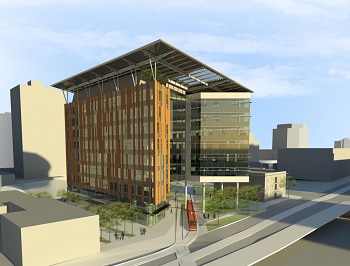 Likewise, Portland's Oregon Sustainability Center will achieve net-zero energy and water. The seven-story building will incorporate solar panels, passive solar design, and geothermal energy tapped via a network of 200-foot-deep wells. The structure will include a rainwater collection system and on-site treatment of sewage and greywater, with excess water and runoff filtered naturally into the ground. (Photo courtesy of Oregon Sustainability Center.)
What Goes Into a Living Building?
The Living Building Challenge consists of 20 "Imperatives" that every project must meet to qualify for certification under the program. These Imperatives are distributed among seven performance areas (called "Petals" in the documentation). Here's the basic structure of the Petals and Imperatives:
| | | |
| --- | --- | --- |
| Petal (Performance Area) | Imperatives | Explanation |
| Site | Limits to Growth | Built only on greyfields or brownfields away from sensitive areas |
|   | Urban Agriculture | Integrated agriculture appropriate to the project |
|   | Habitat Exchange | Set-asides for natural habitat equal to the development area |
|   | Car-Free Living | Incorporates walkability and pedestrian orientation |
| Water | Net Zero Water | 100 percent water use from captured precipitation or closed-loop systems |
|   | Ecological Water Flow | Storm water and building discharge managed 100 percent on-site or on adjacent sites |
| Energy | Net Zero Energy | Energy needs met 100 percent on-site with renewable sources |
| Health | Civilized Environment | Access to fresh air and daylight |
|   | Healthy Air | Air quality assured through ventilation and monitoring -- also, no smoking (but you knew that) |
|   | Biophilia | Natural features incorporated into the design and built environment (tell me this doesn't require Feng Shui) |
| Materials | Red List | No use of certain specific substances, such as asbestos, cadmium, CFCs, formaldehyde, lead, mercury, PVC |
|   | Embodied Carbon Footprint | If I understand correctly, this requires calculation and offset of all carbon generated during construction (more information here). |
|   | Responsible Industry | Sustainable extraction for such resources as stone, metal, and timber |
|   | Appropriate Sourcing | Meets specific standards for technologies and assemblies to be used, even transportation distances; e.g., consultants can't come from farther away than 2,500 km. ( Wait, what if they ride a bike to the job site?) |
|   | Conservation + Reuse | Planned reduction or elimination of waste |
| Equity | Human Scale + Human Places | As opposed to automobile-scaled places |
|   | Democracy + Social Justice | Public accessibility (i.e., no gated communities) |
|   | Rights to Nature | Protection of the public's right to fresh air, sunlight, and natural waterways, including access paths |
| Beauty | Beauty + Spirit | Inclusion of design features "intended solely for human delight and the celebration of culture, spirit and place appropriate to its function." |
|   | Inspiration + Education | Incorporates public education about the facility as a "Living Building" project |
A building that meets some of the requirements can gain "Petal" status under the Living Building program. To achieve "Living" status it must meet the requirements of all seven performance areas.
Hawaii's "Living" Energy Lab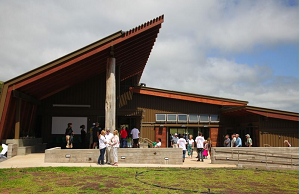 The Hawaii Preparatory Academy Energy Lab in Kamuela on the island of Hawaii has achieved Living status. The academy, a secondary school, uses the Energy Lab as a center to educate students in sustainable energy. (Photos courtesy of Hawaii Preparatory Academy.) The Energy Lab's pitched roof incorporates photovoltaic solar panels and is specially designed to create natural cooling in a tropical climate. The building collects rainwater, which is incorporated into a radiant cooling system. Wood used in the building came from either salvaged or Forest Stewardship Council (FSC) certified sources, one of the Living Building materials requirements. Leftover wood from construction was used for benches and landscaping mulch.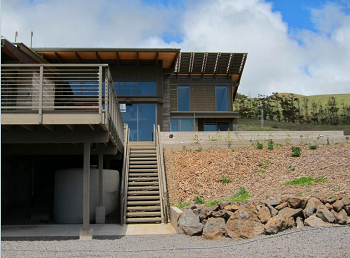 The building includes a lab in which students can work with computerized monitoring equipment to study the energy input and output of the building, meteorological and seismic data, water tank levels and flows, and other features of the building and its environment. The Energy Lab sits on a large tract of farmland, which is used for growth and investigation of biofuels and traditional Hawaiian food crops. The photo here shows some of the use of wood on the building. The water cistern can be seen next to the steps under the deck.
Omega: Wastewater Project Provides Fertile Ground for a Living Building
The Omega Center for Sustainable Living (OCSL) in Rhinebeck, N.Y., has also received Living status. The center is part of the Omega Institute, an educational organization dedicated to wellness and personal growth. The idea for creating the Center for Sustainable Living began in 2005, when the Institute needed to replace its aging septic system. Omega decided to construct a natural wastewater system it called the Eco Machine. Since part of the Eco Machine needed to be housed in a building, why not make it a net-zero Living Building while they were at it?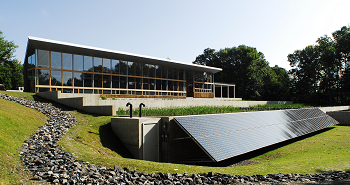 The OCSL is used as an educational center and demonstration project in sustainability. As a net-zero energy building, the center generates more electricity than it uses over the course of a year, using photovoltaic solar panels that power the whole facility, including the Eco Machine it houses. The building is heated and cooled with geothermal energy from deep wells, supplemented by passive solar energy. The center includes indoor and outdoor classrooms and a 4,500-square-foot greenhouse. (Photo courtesy of Omega Center for Sustainable Living.) Omega says one of its greatest challenges in meeting Living Building standards was materials sourcing. In background information about the project, they write that "many building materials include toxic chemicals, and most building materials are no longer made in the United States." To come up with the materials they needed to meet the requirements, they write:
[W]e had to make our own pipe insulation because we couldn't find any free of toxins. We also used many salvaged building materials to meet LEED Platinum and Living Building Challenge criteria, including doors from an office building, bathroom partitions salvaged from a church, and even plywood from President Barack Obama's inaugural stage.
Do Living Buildings Cost More to Build?
Isn't the Living Building a more expensive route for putting up a structure? According to an assessment done by the David and Lucille Packard Foundation in 2002, the answer is, well, yes and no. This study, "Building for Sustainability," compared costs for constructing a building employing the various LEED levels (Certified, Silver, Gold, Platinum) with a standard non-green "Market" building. Even though the "Living Building" was in early conceptual form at the time and the Living Building Challenge had not yet been formalized, the study included the concept as one of its alternatives. The results? The comparison showed that initial construction costs for the Market scenario come to $10 million, whereas LEED Platinum costs come in at $12.1 million and Living Building at $12.9 million. More money up-front, then. The picture changes, though, when you compare costs in the long-term. Whereas the Market building's 30-year costs come in at $22.7 million, LEED Platinum is only $18.3 million and the Living Building scenario comes in at only $18.7 million. What's more, the study calculated the accumulated costs to society of certain pollutants in each scenario. Costs to society for the Market building would be $3.2 million, for the Platinum building only $692,479, and for the Living Building, naturally, zero. So do Living Buildings cost more to build? The answer is, as with all things green, that it depends on whether you consider the long term and the environmental externalities.