Zylight Demonstrates Specialty, Stage LED Lighting Options at USITT 2017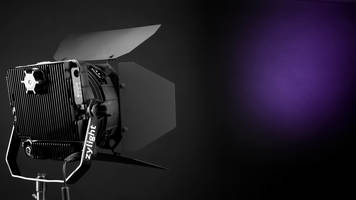 LOS ANGELES – March 6, 2017 – Zylight, a leading manufacturer and distributor of innovative LED lighting solutions, will showcase several of its stage and specialty lighting products during the USITT 2017 Annual Conference & Stage Expo, which runs March 8-11 in St. Louis. Co-located in the USHIO booth (#1911), Zylight will demonstrate its F8-200 LED Fresnel and F8-B LED UV Fresnel, as well as a variety of LDDE Nano*Pix LED soft lights and LedCyc modular LED backlight systems.
Although new to the U.S. market, LDDE theatrical and specialty LED lighting products are used extensively throughout Europe's leading theaters and opera houses. Ideal replacements for conventional RGBW fluorescent battens, LDDE's Nano*Pix lights offer adjustable color temperature (2700-9000K), wide color range, and intuitive integrated controls. The LedCyc family of modular LED backlight systems for rear projection on screens or cycs delivers uniform illumination with a variety of setting options for theater and TV/film studios.
"USITT attendees are going to be very impressed by the pinpoint control of LDDE fixtures. They really help stage presentations and rear projection spaces come alive," said Joe Arnao, president of Zylight. "We're also excited to show our F8-B UV Fresnel. It has the brightness to deliver the dramatic black light effect you want, with all the control and focusing ability you expect from a Fresnel."
The F8-B features the proprietary Tru365™ UV-LED engine with flicker-free performance for true black light applications. It delivers four times the fluorescent brightness of a traditional 400-watt Fresnel black light at the same distance, but only draws about one quarter of the electrical power. Available in tungsten (3200K) or daylight (5600K) versions, the F8-200 is brighter than a 400-watt HMI Fresnel.
Built on Zylight's F8 chassis, both lights feature a patented flat focusing system, continuously adjustable beam angle (16-70 degrees), and eight-inch SCHOTT glass lens. All F8 fixtures offer full DMX operation and built-in ZyLink™ wireless technology, so multiple Zylights can be linked for simultaneous remote control. The lights collapse for easy transport and storage, and are water resistant (IP54) for use in challenging environments.
ABOUT ZYLIGHT LLC
Founded in 2003, Zylight LLC is the leading manufacturer and distributor of intelligent LED lighting instruments for the film and video production industry. Every model in its easy-to-use lighting system produces fully calibrated bright white light, while some also provide a spectrum of adjustable colors without gels. Full wireless control and DMX integration are included, and AC or DC power options are available. With more than 100 dealers worldwide, Zylight continues to develop innovative LED lighting solutions to help make your job easier. Plus, Zylight is also the exclusive distributor of select LED light and battery manufacturers throughout the Americas. Be Brighter with Zylight. Find out more at www.zylight.com.