ZPower to Exhibit at MD&M West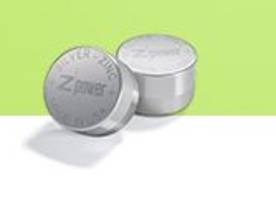 ZPower's Silver-Zinc Rechargeable Microbattery Technology will be among the latest technology showcased at the expo held this year in Anaheim, California.
CAMARILLO, CALIF. - FEBRUARY 05, 2018 - ZPower is pleased to announce that its rechargeable silver-zinc battery technology will be on display at booth #339 during this year's Medical Design & Manufacturing Expo in Anaheim, CA. MD&M West is the largest medical design and manufacturing event in the world; the conference provides expert insights and new innovations for every stage of device development. More than 2,000 exhibitors are expected to showcase their products and capabilities over the three-day period (February 6-8).
ZPower is the world's only developer of rechargeable, silver-zinc batteries for microbattery applications. ZPower batteries offer the highest energy density and exceed the safety and environmental benefits of any other rechargeable microbattery on the market today. ZPower's first commercial application is the award-winning rechargeable system for hearing aids, and starting in 2017, nearly every major hearing aid manufacturer is offering select products with ZPower rechargeable microbatteries built in. As devices get smaller, more sophisticated and hungrier for energy, ZPower has positioned itself to meet the demands of developers and innovators across the spectrum of business, manufacturing and engineering.
To learn more about ZPower silver-zinc microbatteries, please visit http://www.zpowerbattery.com.
About ZPower, LLC
ZPower, with headquarters and a manufacturing facility in Camarillo, California, is a leader in the development of rechargeable silver-zinc batteries for microbattery applications. ZPower batteries deliver unmatched performance, improve user experience and are better for the environment. ZPower is ISO 13485:2016 and ISO 9001:2008 certified, and its facility and devices are registered with the FDA. For more information, visit http://www.zpowerbattery.com.
Related