Zoom Stereo Microscopes provide clear, high-contrast images.
Press Release Summary: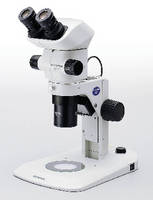 Using Galilean optical system, Olympus SZX7 offers 7:1 zoom ratio with video compatibility for image documentation. Variety of objective lenses and eyepieces are available, expanding magnification from 4-336x. Binocular Olympus SZ51 and SZ61 utilize 10° angle of convergence Greenough optical system for superior field flatness. When used with 10x eyepiece, SZ51 provides 5:1 zoom ratio with magnification range from 8–40x, while SZ61 features 6.7:1 zoom ratio with variable magnification from 6.7–45x.
---
Original Press Release:

Olympus SZX7, SZ51 and SZ61 Zoom Stereo Microscopes provide superior image quality



Barrington, N.J. – Edmund Optics® (EO), the premier provider of optical components, introduces new Olympus SZX7, SZ51 & SZ61 Zoom Stereo Microscopes. These precision microscopes provide clear, high contrast images in a wide range of life science and other applications.



Olympus SZX7 Zoom Stereo Microscopes use a Galilean optical system to provide superior image accuracy at high resolutions. Offering long working distances, they have an impressive 7:1 zoom ratio with video compatibility for image documentation. A boom stand adapts for precise positioning needs. An integrated click-stop mechanism recalls specific magnification settings, for convenience and ease of use. A wide variety of objective lenses and eyepieces are available - accessories expand magnification from 4x-336x - and provide excellent image flatness for a large range of specimens or applications. The SZX7 is ideal for imaging difficult-to-access samples, providing solutions to your microscopy needs.



Olympus SZ51 and SZ61 Zoom Stereo Microscopes offer variable magnification ranges

Olympus SZ51 and SZ61 Zoom Stereo Microscopes are ideal for use in the life sciences to provide excellent image quality with ample depth of field for numerous biological microscopy applications. They utilize a 10° angle of convergence Greenough optical system for superior field flatness with high clarity, strong detail and precise color. Every microscope includes convenient, easy-to-use front-access controls and a zoom knob stopper for quickly repeatable magnification changes. A comfortable eyepiece design includes pupil aberration control and appropriate positioning at the eye for optimized ergonomics.



Trinocular design available for camera compatibility

Olympus SZ51 Binocular Zoom Stereo Microscopes provide a 5:1 zoom ratio with a magnification range from 8x - 40x with a 10x eyepiece. A low, suppressed field of curvature ensures that original specimen shapes are accurately reproduced. Olympus SZ61 Binocular Zoom Stereo Microscopes feature a 6.7:1 zoom ratio with variable magnification from 6.7x - 45x when used with a 10x eyepiece. A trinocular design, the SZ-61R Trinocular Zoom Stereo Microscope, includes a trinocular tube with an integrated 0.5x C-mount lens for easy compatibility with digital or video cameras. Multiple mounting stands and configurations are available.



Olympus SZX7, SZ51 and SZ61 Zoom Stereo Microscopes are in stock and available for immediate delivery for fast turnaround and excellent value.



About EO:

Edmund Optics® (EO) is a leading producer of optics, imaging, and photonics technology for R&D, electronics, semiconductor, pharmaceutical, biomedical, and military markets around the globe. EO is the world's largest supplier of off-the-shelf optical components. Customers can purchase items by contacting EO at 1-800-363-1992, via the catalog, or via the website at www.edmundoptics.com.



Company Contact:

Kirsten Bjork-Jones

Director Global Marketing Communications

Edmund Optics®, Inc.

101 East Gloucester Pike

Barrington, NJ 08007 U.S.A.

Phone: 1-800-363-1992

Fax: 1-856-573-6295

email: kbjork-jones@edmundoptics.com



European Contact:

Agnes Huebscher

Director European Marketing

Edmund Optics

Zur Giesserei 8

76227 Karlsruhe, Germany

Tel.:   +49 (0)721-62737-38

Fax:   +49 (0) 721 6273750

E-Mail:   AHuebscher@edmundoptics.de

More from Explosives, Armaments, and Weaponry