Zone Controllers suit fan coil and heat pump applications.
Press Release Summary: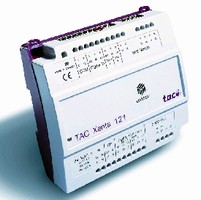 Fan coil version of Xenta 121 can be used in 2- and 4-pipe installations and configured for use with variety of valve actuators, while heat pump model handles reversing and isolation valves and can be configured for up to 3 compressors. Demand-based, multifunctional fan control program handles multistage and variable speed fans for optimal comfort. Exception Modes allow users to pre-configure different modes to override normal control in case of specific event.
---
Original Press Release:

TAC Introduces New Xenta 121 Line of Controllers



DALLAS - TAC (R) a world leader in building automation, security systems and energy solutions, introduces the TAC Xenta (TM) 121 zone controller designed for fan coil and heat pump applications. This new family of controllers is part of the TAC Vista Building Management System, providing efficient management of a single building or a large building complex.

The fan coil version of the Xenta 121 controller can be used in both two- and four-pipe installations and configured for use with a variety of valve actuators. The heat pump controller handles both reversing and isolation valves and can be configured for up to three compressors. The controller handles heating, cooling and secondary heating, and users can define up to three heating and cooling stages. Because only one
controller is necessary to handle all fan coil applications and one to handle heat pump control, installation, training and maintenance are easier and more cost-effective.

The Xenta 121 controller's demand-based, multifunctional fan control program handles both multistage and variable speed fans to ensure the right amount of air for optimum comfort and for greater energy efficiency. Room occupancy sensors, window contacts switches, and outdoor temperature sensors can be added to the controller to further
enhance energy savings. The Xenta 121 also features economizer control, as well as CO2 and relative humidity control for optimal indoor air quality, energy savings and to create a more productive work environment.

"TAC Xenta 121 zone controllers are not only versatile, but easy to set up and program using ZBuilder, TAC's new easy to use Windows-based programming tool," said Lonnie Laue, director of marketing and sales support for TAC. "The ZBuilder software allows users to quickly and easily download programs and configure parameters for each zone
controller."

Xenta 121 controllers also include a new "Exception Modes" function that allows users to pre-configure different modes to override normal control in the case of a specific event occurrence. Exception Modes offer many ways to save energy, for example by using a window contact to turn off heat and cooling if the window is open. They can also be used for other functions like freeze protection, smoke control or simple light control.
The Exception Modes provide the Xenta 121 controller with the versatility to be used in more applications than other zone controllers on the market.

According to Laue, the Xenta 121 can operate alone, networked with other TAC Xenta controllers, or as part of an open, integrated network. "Via LonWorks (R) technology, Xenta 121 seamlessly integrates to other building systems and functions," he said. "In addition, all inputs and outputs are freely configurable and engineering is less complex due to flexibility in input and output configuration. Plus, the ability to
select the best and most cost-effective actuators and sensors helps protect the user's bottom line."

The versatile Xenta 121 zone controllers are suitable for a variety of facilities, including: hotels, computer rooms, conference rooms, retail stores, office buildings and schools, said Laue.

About TAC
TAC is a leading provider of building automation solutions based on Open Integrated Systems for Building IT. TAC's mission is to provide added value through building environment services for indoor climate, security and use of energy, delivered with advanced technology to end users and property owners throughout the world. With over 80 years of experience in the HVAC, building automation and security arenas, TAC has over 3,700 employees worldwide with partners and branches in 75 countries. TAC's
parent company, Schneider Electric, is the world's leading specialist in power, control and building automation, with 85,000 employees worldwide and operations in 130 countries.

Contact Name: Jeannie Birdwell
Organization: TAC
Title: Communications Manager
E-mail: info@tac.com