Zirconium Fork Density Meter takes accurate measurements.
Press Release Summary: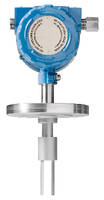 Designed to monitor inorganic chemicals such as hydrochloric, nitric, and sulphuric acid, Micro Motion® 7826 insertion-style liquid density and concentration meter uses vibrating fork and is suited for continuous, real-time measurement and control. Corrosion-resistant instrument, suited for use in pipelines, bypass loops, and tanks, is insensitive to vibration, temperature, and pressure variations. Measurement accuracy is rated to ±0.001 g/cm³ for density and ±0.1% for concentration.
---
Original Press Release:

Emerson Introduces Micro Motion Zirconium Fork Density Meter



New Zirconium fork meter extends high accuracy measurement to corrosive acids and alkalis

BOULDER, COLO (September 16, 2009) -- Emerson Process Management now offers its Micro Motion® 7826 Insertion Liquid Density and Concentration Meter in Zirconium for enhanced corrosion resistance. The new Micro Motion Zirconium fork density and concentration meter is designed to monitor inorganic chemicals such as hydrochloric, nitric and sulphuric acid. The new meter is ideal for applications in the chemical and oil & gas industries, as well as clean in place (CIP) processes in the food and beverage sector.

The Micro Motion 7826 uses a vibrating fork to measure density and concentration and is ideally suited to continuous, real-time measurement and control in pipelines, bypass loops and tanks. The Zirconium fork liquid density meter has the same form, fit and function of the existing fork density meter, offering an integral mount transmitter with two mA outputs and Modbus/RS-485 communications. Approvals for the meter include ATEX and CSA / C-US.

The Micro Motion 7826 Zirconium fork density meter, installed in an application at Momentive Performance Materials, has delivered solid results in a process that produces hydrochloric acid, which is then reused in a chemical operation within the plant. "This process requires a device that can handle the critical control of HCl concentration while being easy to clean to avoid clogging," explained Roger Knox, Momentive's instrument technician. "The Micro Motion fork delivered as we'd hoped - good density measurement for process control and easy accessibility to all wetted parts."

The 7826 can be used in process control where density or concentration is the primary control parameter for the end product, or as an indicator of some other quality control parameter such as % solids.

Constructed to meet the most demanding process applications, the 7826 is a rugged and reliable direct insertion meter that requires very little maintenance, is insensitive to vibration, temperature and pressure variations, and provides high accuracy density and concentration measurement (± 0.001g/cm³ density, ±0.1% concentration). The unique direct insertion design gives unparalleled installation flexibility to provide fully integrated density measurement.

With the introduction of the Zirconium fork density meter, Emerson has completed its corrosion resistant range of world-leading Micro Motion 7826 density and concentration meters. The range is currently available in B3 and C22 Nickel alloys, Monel 400, Titanium and Stainless Steel construction.

For detailed information on compatibility with a wide range of acids, alkalis and other chemicals - see the Micro Motion Corrosion Guide, available for download at www.MicroMotion.com within the 'Documentation' section.

About Emerson Process Management

Emerson Process Management (www.EmersonProcess.com), an Emerson business, is a leader in helping businesses automate their production, processing and distribution in the chemical, oil and gas, refining, pulp and paper, power, water and wastewater treatment, metals and mining, food and beverage, pharmaceutical and other industries. A division of Emerson, Micro Motion, (www.EmersonProcess.com/MicroMotion) invented the first practical Coriolis flowmeter in 1977, and is consistently rated as the world's leading Coriolis flowmeter supplier, measured in both technology and customer support. Micro Motion technology and expertise plays a key role in the Emerson mission of combining superior products and technology with industry-specific engineering, consulting, project management and maintenance services. Emerson brands include: PlantWeb®, Micro Motion®, Syncade(TM), Fisher®, Rosemount®, Daniel®, DeltaVTM, Ovation®, and AMS® Suite.

About Emerson

Emerson, based in St. Louis, Missouri, USA, is a global leader in bringing technology and engineering together to create innovative solutions for customers through its network power, process management, industrial automation, climate technologies, and appliance and tools businesses. Sales in fiscal 2008 were $24.8 billion and Emerson is ranked 94th on the Fortune 500 list of America's largest companies. For more information, visit www.Emerson.com

PlantWeb, Micro Motion, Syncade, Fisher, Rosemount, Micro Motion, Daniel, DeltaV, Ovation, and AMS are marks owned by one of the Emerson Process Management legal entities. Other marks are property of their respective owners.

Contacts :
Lee Rumbles, Emerson Process Management, Micro Motion
1 (303) 527-5301, Lee.Rumbles@Emerson.com

Jerry Moon, Emerson Process Management
1 (512) 832-3089, Jerry.Moon@Emerson.com

More from Architectural & Civil Engineering Products