Zig-Zag Rubber features inter-void lug structure.
Press Release Summary: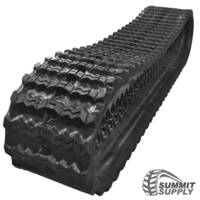 Zig-Zag Rubber Track Tread Pattern offers traction and eliminates slippage forward and backward. Providing self-clearing of site debris, unit comes with angled edge-recesses. Suitable in snow, mud and clay applications, product minimizes machine vibration and turf scarring.
---
Original Press Release:
Summit Supply Releases New Rubber Track Tread Pattern for Construction Equipment
Summit Supply, LLC of Asbury NJ continues to expand its line of Rubber Tracks for construction equipment with the release of the "Zig-Zag" tread pattern.
The Zig-Zag pattern is the result of extensive research and development resulting in Summits most versatile Rubber Track offering. Engineered with Summits proprietary non-directional tread pattern, the Zig-Zag pattern offers enhanced traction and virtually eliminates slippage both forward and backward, while minimizing machine vibration and turf scarring. Deep, angled edge-recesses provide excellent traction in snow, mud and clay. The unique "inter-void" lug structure provides self-clearing of site debris, thus maximizing overall track and undercarriage service life.
Unlike similar competitor offerings, Summits Zig-Zag pattern introduces proprietary surface voids which effectively combine the benefits of traditional straight-bar and multi-bar rubber tracks. "Summit Supply's Straight-Bar and Multi-Bar tracks have been incredibly well received by thousands of dealers and end-users throughout the years. We are confident that the addition of Summit's cutting edge Zig-Zag pattern will further cement our position as the leader of the Construction Wear Parts industry," says Eric Druckenmiller, General Manager of Summit Supply, LLC USA.
For more details on Summit Supply's full line of Construction Wear Parts, including Rubber Tracks, Undercarriage Parts, Rubber Track Pads, Flat-Proof Solid Tires and VTS® Systems and Parts visit www.summitrubbertracks.com.
About Summit Supply, LLC.
Summit Supply is North America's leading supplier of quality Construction Equipment Wear Parts. Founded in 1982, Summit Supply has quickly grown into the Nation's largest supplier of Construction Wear Parts with locations in New Jersey, Georgia, Illinois, Texas, California and Washington. Summit Supply provides rubber tracks and other wear parts for over 8000 machine makes and models, and delivers overnight to customers across 42 states, with 1-2 day shipping to over 97% of the Continental United States.
For more information, visit www.summitrubbertracks.com, or call 888.888.1248.
Web Site: http://www.summitrubbertracks.com