Zeres Series Molding Machines feature 15-in. color touch screen monitor.
Press Release Summary: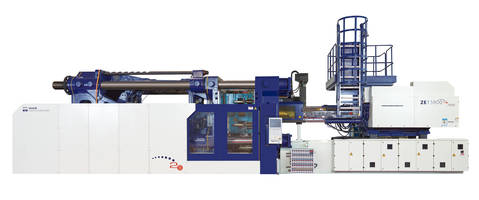 Available in ZE 8000, ZE 9000, ZE 10800 and ZE 13800 with clamp forces of 899, 1,014, 1,216 and 1,551 U.S. tons respectively, Zeres Series Injection Molding Machines are designed using Zhafir Venus II platform. Equipped with hydraulic core pull interface on the moving platen, units offer injection capacities ranging from 34.29 oz to 187 oz. Machines come with software for controlling hydraulic circuits.
---
Original Press Release:
Zhafir Zeres Now Available in Larger Tonnages
Absolute Haitian, the exclusive distributor of Haitian and Zhafir injection molding machines in the U.S. and Canada, has announced the availability of four new larger models of its all-electric Zeres Series injection molding machines with integrated hydraulic system. The new models range from 899 to 1,551 U.S. tons. Previously, the largest models available for the Zeres product line was 730 U.S. tons.
The Zeres Series is based on the Zhafir Venus II platform but includes an integrated hydraulic circuit to facilitate molding applications which require core pull or sophisticated ejector functions. The hydraulics open new possibilities for molders who prefer electric machines but need hydraulics to operate core pull. The integrated hydraulic core pull interface (circuit) is installed on the moving platen and provides more flow and increased pressure compared to external power pack solutions. Pressure and flow rates are adjustable via the machine's controller. Software is included to control up to three hydraulic circuits.
The new models include:
ZE 8000 (899 U.S. tons clamp force)
ZE 9000 (1,014 U.S. tons clamp force)
ZE 10800 (1,216 U.S. tons clamp force)
ZE 13800 (1,551 U.S. tons clamp force)
Five different injection drives to choose from – 2250, 3350, 5200, 7000, 9200
Injection capacities from 34.29 ounces to 187 ounces
Highly competitive tie bar spacing that is more generous than competitors
Latest control technology including a 15-inch color touch screen monitor
The new models are available to quote immediately.
"These larger sizes of all-electric molding machines will be attractive for customers who need precision and speed for large parts such as automotive interiors and underhood applications, home appliances, aerospace and industrial applications. Previously, all-electric machines at these tonnages have come with a high price tag. Now we're able to provide the all-electric option but at a more affordable price," said Nate Smith, one of the owners of Absolute Haitian.
Absolute HAITIAN, based in Worcester, Massachusetts, is the exclusive sales and service partner in Canada and the U.S. for Ningbo Haitian Machinery Co., Ltd. based in Ningbo, China. Ningbo Haitian Machinery Co., Ltd. is the world's largest supplier of plastics injection molding machinery, shipping more than 26,000 machines in 2015. Haitian products are sold in more than 130 countries with machine sizes ranging from 44 to 7,425 U.S. tons of clamp force. More information is available by visiting the Absolute Haitian website at www.absolutehaitian.com
CONTACT:
Patrice Aylward,
Communications Consultant,
+1 216/618-3174
94 Gardner Street
Worcester, MA 01610
T: 508-459-5372
F: 508-459-5368
More from Test & Measurement