ZEISS and University of California Berkeley Launch Public-Private Partnership to Support Brain Microscopy Innovation Center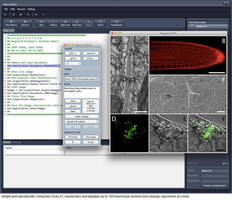 Microscopy tools optimized for use with emerging neurotechnologies provided for researchers



Jena/Germany, Berkeley/USA – ZEISS announces that it is participating in a new public-private partnership with UC Berkeley as part of the Brain Microscopy Innovation Center (BrainMIC), a component of the Berkeley BRAIN Initiative. The Brain Research through Advancing Innovative Neurotechnologies (BRAIN) Initiative was launched by President Obama in 2013 and is focused on revolutionizing understanding of the human brain, with the goal of helping researchers uncover the mysteries of such brain disorders as Alzheimer's and Parkinson's diseases, depression, and traumatic brain injury.



As part of the initiative, ZEISS has delivered a variety of high performance microscopes and imaging systems. Equipment installed in phase one of the multi-phase project includes ZEISS LSM 880 with Airyscan multiphoton confocal microscope, ZEISS LSM 880 confocal microscope with OPO capabilities, as well as ZEISS Lightsheet Z.1 light sheet imaging system with special optics for cleared tissue samples, and ZEISS Axio Scan.Z1 digital slide scanning system. As part of the partnership, ZEISS will provide the latest updates of the equipment, while UC Berkeley researchers will offer feedback on any new or special neurotechnology needs to help ZEISS produce future products best suited for the newest advances in neuroscience research endeavors.



The public-private initiative was launched on May 28, 2015 at an event hosted by UC Berkeley. James Sharp, President of ZEISS Microscopy USA, spoke at the event, along with Ehud Isacoff, Director of the Helen Wills Neuroscience Institute, Holly Aaron, Manager of the BrainMIC, Steven Martin, Dean of Biological Sciences and Sharif Taha, Scientific Program Officer at The Kavli Foundation.



According to Holly Aaron, the BrainMIC was established as a resource for the neuroscience community, with the goal of overcoming one of the BRAIN Initiative's major challenges – making new tools accessible to the broad community. "There has been a rapid advance in the optical tools available to detect and control neuronal activity and synaptic transmission. These powerful tools are an important and exciting step toward deciphering the neuronal circuits that command essential brain functions, such as perception, movement, and memory. However, for these tools to yield breakthrough discoveries there is a need for commercially available microscopes that are optimized for use with emerging neurotechnologies. ZEISS's participation will help us meet that need." Sharp added: "I am very excited about the partnership and looking forward to discussions about the types of research UC Berkeley is pursuing and helping researchers use the equipment to its fullest capabilities, while at the same time helping ZEISS to increase our capabilities."



Press contact

Microscopy

Dr. Jochen Tham

Phone +49 3641 64-3949

Email: jochen.tham@zeiss.com



www.zeiss.com/press



About ZEISS

ZEISS is an internationally leading technology enterprise operating in the optics and optoelectronics industries. ZEISS develops and distributes lithography optics, measuring technology, microscopes, medical technology, eyeglass lenses, camera and cine lenses, binoculars and planetarium technology. With its solutions, the company constantly advances the world of optics and helps shape technological progress. The company is divided up into the six business groups Industrial Metrology, Microscopy, Medical Technology, Vision Care, Consumer Optics and Semiconductor Manufacturing Technology. ZEISS is represented in over 40 countries – with around 30 production sites, over 50 sales and service locations and about 25 research and development facilities. In fiscal year 2013/14 the company generated revenue approximating 4.3 billion euros with just under 25,000 employees. Founded in 1846 in Jena, the company is headquartered in Oberkochen, Germany. Carl Zeiss AG is the strategic management holding company that manages the ZEISS Group. The company is wholly owned by the Carl Zeiss Stiftung (Carl Zeiss Foundation).



Further information at www.zeiss.com



Microscopy

The Microscopy business group is the world's only one-stop manufacturer of light, X-ray and electron microscope systems. The portfolio includes solutions and services both for life sciences and materials research and for industry, education and clinical practice. The business group is headquartered in Jena. Additional production and development sites are located in Oberkochen, Göttingen and Munich in Germany, as well as in Cambridge in the UK, and in Peabody, MA and Pleasanton, CA in the USA. The business group employs a total of over 3,000 people. It generated revenue of 656 million euros in fiscal year 2013/14.

More from Test & Measurement