Zebra Skimmers Corporation, Expands Muscle(TM) Coalescer Line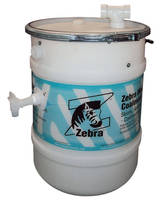 Cleveland, OH-Zebra Skimmers Corporation, a full line manufacturer of oil skimmers and fluid maintenance equipment, expands its Muscle(TM) Coalescer line to include new model for servicing air compressor condensate.

"The Muscle Coalescer line has been solid for many years, servicing our customers' needs for separation and removal of contaminate oil from water-based fluids. Due to environmental concerns many industries desire, or are required, to treat their compressor condensate before its release to the water table. This new coalescer model is a simple and cost-effective solution, preventing environmental contamination while reducing the overall compressor waste stream," states Meg Grant, Sales & Service Manager of Zebra Skimmers Corporation.

Benefits of the Muscle Compressor Coalescer include:

o Robust, yet simple, design fits any budget

o Automatic air release valve and de-oiled water exit

o Reduces compressor waste stream up to 98%

o Works with almost any size compressor

o Lifetime warranty

Zebra Skimmers, the leader in fluid maintenance for over a decade, invents new technology to save its customers money on fluid while reducing waste, and sells and supports its equipment worldwide. Most products are guaranteed for at least a year, and some for life.