Zatkoff's Die Cut Solutions in a Snap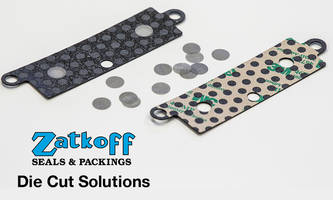 At Zatkoff Seals & Packings, we love a challenge. Our clients rely on us for innovative solutions, and we are always ready to step up to find them.
Recently, a client needed a gasket that had to meet specific temperature and fluid requirements for transmission fluids. This meant that some materials were out of the question, and that whatever we did use, needed to be corrosion resistant, while providing proper sealing requirements.
In addition, the client desired a filter element to be part of the assembly. Zatkoff Gasket Division consulted with our client and designed a multi-piece gasket to provide a complete seal solution. The process for manufacturing the gasket was intriguing, and required several steps.
First, a laminate adhesive is cut and applied to the gasket material. This sounds basic enough, but this process had to not only be functional, (it had to adhere) but it also had to be modified to limit fluid attack.
Second, stainless steel filters were cut and attached to the gasket back, which satisfied the filtration requirements.
Third, the gasket was provided on a white liner for easy attachment to the product on the assembly line. This solution offered the customer a turnkey, ready-to-use, one-piece assembly that saved money by reducing vendors, and assembly time.
Our client was able to go into production with everything they needed to produce a superior product with this customized solution.
Offering consultation, innovation, design and production under one roof, we are your one-stop solution for challenging parts needs. With more than 35 years' experience in creating custom solutions, we've just about seen it all!
At Zatkoff Seals & Packings, we are always up for the challenges presented by today's manufacturing needs.
Do you need a solution to a sticky product problem? Call our experts (https://www.zatkoff.com/contact) today to create the elegant, custom parts you are looking for.
More from Machinery & Machining Tools