ZaGO Manufacturing Company Gets Pizza Oven Maker Cooking Again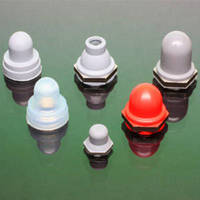 Newark, NJ - A leading manufacturer of pizza ovens in New England recently experienced major problems with contamination of its switch panel controls. The core of the problem was that oil and other substances were penetrating into the lead of the body of the switch causing the switch to malfunction and requiring entire pieces of equipment to be returned to the manufacturer for repair and testing.

An evaluation by engineers lead to a corrective action requiring all switches on the front panel to be sealed to protect the equipment from any further malfunctions. Naturally, the company turned to ZaGO manufacturing for a sealing solution which ZaGO provided in the form of its sealing expertise and switch sealing boots. Our greatest strength here at ZaGO is our ability to work alongside our customer to devise the best solution for their sealing problems," said ZaGO owner Harvey Rottenstrich. "Whether its pizza ovens, parking systems or any other type of equipment, we are always ready, willing and able to offer the best sealing solutions." And indeed, after successfully passing laboratory testing, all of the switches on the machinery were modified to include ZaGO's sealing switch boots. And now, the pizza ovens are once again rolling out of the factory.

For additional information contact Jackie Luciano-Brito at Jackie@Zago.com.

ZaGO Manufacturing Company has been has been producing sealing products for over fifteen years in Newark, New Jersey in a state-of-the-art facility in south Newark in close proximity to Newark Airport, the Port of Newark and all of New Jersey's major transportation and mass transit routes.