Z-Axis Microscope measures minute variations in height.
Press Release Summary: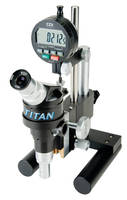 Suited for electronics industry applications, Z-Axis Depth Measuring Microscope offers basic magnifications of 200X  that can be increased to 400X and with video adapters to 1600X via use of optional camera and monitor. Magnification increase afforded by video adapters promote accuracy and repeatability from .0002–.0003 in. or better. Employing non-destructive principal, microscope offers co-axial illumination and lenses are coated to eliminate glare.
---
Original Press Release:

New Depth Measuring Microscope Introduced by Titan Tool



Titan Tool Supply, Inc., Buffalo, New York, introduces a new Z-Axis Depth Measuring Microscope which is designed to measure minute variations in height not easily distinguished by mechanical means.



The microscope has many applications in the electronics industry, including the semiconductor field, where it measures heights of the bonded portion of lead wire, wafer bump, lead frames and solder. The new microscope also measures the step height of hybrid integrated circuits and terminal steps on multi-layer PC boards. Other applications include measuring the depth of minute cracks, engraving depth of printing rolls and plastic molds, depth grooves of computer diskettes and the depth of score on beverage cans.



The basic microscope is available with magnifications of 200X. The visual magnifications can be improved and increased to 400X and with video adapters to 1600X with the use of an optional camera and monitor. The video adapters, when added to the basic microscopes, increase the magnification range, provide greater accuracy and easy repeatability (.0002" to .0003" or better depending on magnification). Titan Tool also claims that use of video monitors relieve eye strain and allow for multi viewing.



The company reports that the depth measuring microscopes employ the non-destructive principal, relying on high magnification and a shallow depth of field. The accuracy desired determines the magnification. Because of its short working distance, the Titan microscope uses co-axial illumination, allowing the user to focus on the top or bottom of the part being inspected.



Titan states that all images are optically correct in the basic microscopes and that all lenses are coated to eliminate glare. The reticle offered in the basic microscope and with the video adapter features crosshairs with concentric circles and minute divisions of the horizontal axis and vertical axis. Titan depth measuring microscopes with video adapters can be supplied with optional cameras and black and white or color monitors.



For more information, contact Titan Tool Supply, Inc., 68 Comet Avenue, Buffalo, NY 14216. Phone: 716-873-9907. Fax: 716-873-9998. Email: info@titantoolsupply.com. www.TitanToolSupply.com. For detailed product information or to download a PDF file product sheet, visit:http://www.titantoolsupply.com/Z-Axis-Measuring-Microscope



Please send reader service inquiries to the above address to:

Frank Menza, President, Titan Tool Supply,Inc.

Email: info@titantoolsupply.com



For electronic files or additional information, contact:

Paul V. Offermann, Harold Warner Advertising, Inc.

Email: paul.offermann@haroldwarner.com

700 Parkside Ave., Buffalo NY 14216 * 716-852-4410

More from Vision Systems