Z-Axis Elevator Stage works with standard/inverted microscopes.
Press Release Summary: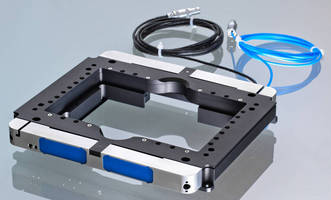 Made for adapting onto top of standard XY microscopy stages, piezoelectric actuator-based PZ 300 AP series features flat design and unique stage design that offers dynamic parameters and settling time under a load of a few milliseconds. Monolithic stage design is free of any mechanical play and offers travel range of up to 300 microns with step resolution of ±2.5 nm. Dual parallel working piezo drives allow centrically located microscopy probe adapter to be lifted symmetrically.
---
Original Press Release:

PZ 300 AP - Z-Axis Elevator Stage - Designed for Standard and Inverted Microscopes



The accuracy and speed of probe positioning is a critical and important value for microscopy techniques such as laser scanning microscopy, or other techniques including fluorescent, super resolution, or image processing. In order to provide the user with a tool able to improve these techniques, piezosystem jena provides the new PZ 300 piezoelectric actuator based z-axis elevator stage for microscopes.



The PZ 300 AP piezo stage is made for adapting onto the top of standard XY microscopy stages. Due to its flat design, the stage can be used for standard microscopes as well as for inverted stands. The monolithic stage design is completely free of any mechanical play and offers a travel range of up to 300 microns with a step resolution of ±2.5 nanometers. The unique stage design offers extraordinary dynamic parameters and a settling time under a load of a few milliseconds. The quick and precise positioning of probes allows the user to make measurements and carry out line scans with greater speed and to reach a much better signal quality for their results.



The sophisticated piezo stage design of the PZ 300 AP series has two parallel working piezo drives which allow the centrically located microscopy probe adapter to be lifted symmetrically.



The PZ 300 AP stage contains a large free aperture thus enabling the piezo stage to work with standard slides and Multiwell® plates as well as Petri-Dishes.



We recommend fixing the PZ 300 AP stage on top of the microscopy stage if the z-elevator stage is to be used for a dynamic application. The high dynamic capacity of the piezo driven stage can only be an advantage for scanning when the PZ 300 AP is mounted safely. A list of microscopy stage adapters available can be downloaded under http://www.piezosystem.com.



The PZ 300 AP series can be equipped with integrated feedback sensors for closed loop positioning control. A certain position can be stored and this point can be approached repeatedly with accuracy in the nanometer range.



For more information about the piezosystem jena program available for microscopy applications, please go to: http://www.piezosystem.com/applications/microscopy/

More from Software