Z- and T-Booms feature carbon fiber construction.
Press Release Summary: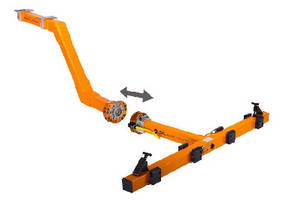 Designed to optimize press-feeding applications, Z-Boom and T-Boom are both manufactured from reinforced carbon fiber with joints that are secured using Bond+Bolt fastening technology. This methodology marries carbon fiber structures at joints first with adhesive and then reinforces it with steel bolts through core. Due to structure of carbon fiber, booms hold to original tolerances, providing repeatability and consistency.
---
Original Press Release:

Bilsing Offers Advanced Carbon Fiber Z-Boom and T-Booms



New tooling designs offer better repeatability, durability and stability

Clinton Township, MI, -- Bilsing Automation has announced the availability their advanced carbon fiber (Cf) Z-boom as well as a new, more flexible carbon fiber T-boom, both designed to improve press-feeding applications. The new booms are manufactured from reinforced, high-strength carbon fiber with joints that are secured using Bilsing's unique Bond+Bolt fastening technology. This methodology, which marries the carbon fiber structures at the joints first with an adhesive and then reinforces it with steel bolts through the core, has proven to be as strong as steel welded joints with a lower manufacturing cost.

Bilsing booms are also designed and manufactured using a process to ensure repeatable tolerances. This guarantees reliable tool exchange when handling multiple tools in applications where an automatic boom tool change feature is applied, as with the Bilsing T-boom. This introduces flexibility into your operations while minimizing die change time and maximizing production output.

Current steel Z-booms are typically comprised of three components, fabricated into one piece. With steel, after time and through potential crashes, the shape of the boom can vary from its original design, affecting consistent part placement into the press. Due to the structure of carbon fiber, Cf booms hold to their original tolerances, providing improved repeatability and consistency as compared to steel booms.

These two booms are offered separately, but can be joined together or with other booms using an automatic tool interface or other connections. In some cases, multiple end-of-arm tooling solutions can plug directly into the Z-boom. Overall, these solutions provide a flexible, robust solution with a better price point and shorter lead time.

About Carbon Fiber Booms

As compared to traditional metal booms, carbon fiber booms are half the weight yet stiffer, stronger and settle more rapidly. In aluminum and steel tube tooling, the press needs to be opened wider to avoid component contact with other parts of the machinery due to potential vibration. This slows down the cycle time. Use of carbon fiber tooling virtually eliminates vibrations, allowing a smaller press opening to improve production rates. According to Bilsing, customers can achieve up to 20 percent increase in productivity after equipping robots with carbon fiber booms.

About Bilsing Automation

Bilsing Automation North America is a subsidiary of Bilsing Automation GmbH (Attendorn, Germany), a global leader in the development and manufacturing of modular tooling systems for the pressroom, body shop and plastic molding applications in the automotive, food, packaging and glass industries. The company is focused on providing optimum product performance that results in cost reductions, supporting the customer through planning, design, engineering, assembly and commissioning. Bilsing Automation also offers 3D digital simulation and on-site training as part of its service offerings.

More from Agricultural & Farming Products