York Hydraulics Inc Adds New Line of Hydraulic Power Units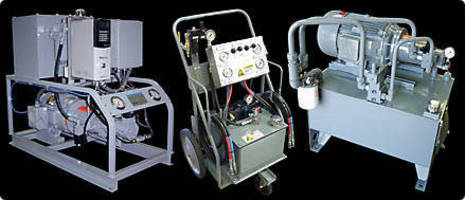 York Hydraulics, Inc., In York, Pa., has added new Dynex Hydraulic Power Units Designed to your special requirements.

· Standard and specialized systems

· Pressures to 15,000 PSI

· Wide range of special fluids

· Long life and low maintenance

· Incorporate customer supplied components

· Expert fabrication and service

Power unit assembly can include custom electrical control panels and wiring. Skilled assemblers, with experience piping for high pressure, ensure trouble-free operation. Properly sized and routed metal tubing with large bends reduces pressure drop and heat buildup. Tube bending equipment can handle up to 1.5 inch diameter stainless steel.

We provide design and fabrication with a circuit schematic or bill of material. Experienced, knowledgeable designers use CAD programs to accurately develop the system to meet or exceed performance parameters. Each design considers factors such as initial cost, installation, start up, safety, maintenance and life-time operating expense.

York Hydraulics is the authorized Distributor for Dynex Hydraulics. We have more than 40 years experience in components selection and application assistance. For more information, please visit our website www.yorkhydraulicsinc.com or Call Ron Kordenbrock at 717-741-2216.


More from Test & Measurement