Yizumi-HPM Announces Sale of 3500 Ton Dual-Platen Injection Molding Machine and Automation to Otto Environmental Systems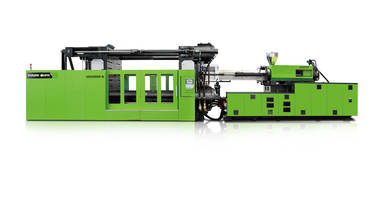 Large-Tonnage Press to Produce 65- and 95-Gal Waste Containers
IBERIA, Ohio, August 28, 2018 – Yizumi-HPM Corp., a unit of the Yizumi Group and a leading manufacturer of high-quality hybrid injection molding machinery from 60 to 3500 tons, has announced the sale of a 3500-ton, dual-platen UN3500DP-N-75500 injection molding machine to Otto Environmental Systems, a leading manufacturer of waste containers for residential, commercial, and retail markets.
The sale was finalized after meetings at the NPE 2018 show in Orlando the week of May 7-11, according to Bill Duff, General Manager, Sales and Marketing for Yizumi-HPM. The new large-tonnage injection machine will be used to manufacture 65- and 95-gal capacity waste containers.
"We're very pleased to be providing a high-productivity molding system to one of the leading manufacturers of waste containers in the U.S.," said Duff. "In the end, I believe we offered the greatest value in terms of technology, quality, and engineering - all at the right price."
The new UN3500DP-N-75500 machine will enable Otto Environmental to significantly improve cycle time and productivity, according to Michael Henry, director of procurement for Otto Environmental. "We're excited to partner with Yizumi-HPM for this high-value package which not only meets our financial and warranty requirements but delivers optimum performance and cycle time improvements," said Henry.
 Otto Environmental sought request for proposals from five machine makers and met with Yizumi-HPM before NPE and also had talks during the show in Orlando. "We were impressed with the aggressive lead time and their intention to establish technical service facilities throughout the U.S.," said Henry.
The injection molding machine includes a full automation package including a 5-axis servo robot, safety enclosures, and conveyors.
About Otto Environmental Systems North America, Inc.
Otto Environmental Systems North America, Inc. (OESNA), based in Charlotte, N.C., is a manufacturer of waste containers for residential, commercial, and retail markets. OESNA also has a container service division that provides residential waste container logistics, distribution, servicing, and repairing, as well as a custom molding division that offers product design and manufacturing for automotive, consumer goods, and material handling sectors. Otto containers are the most widely used brand of residential carts in the world. The original Otto Group was founded in 1934 and now has more than 100 million carts in service around the globe. For more information about Otto Environmental Systems North America, visit www.otto-usa.com.
About Yizumi-HPM Corp. 
Yizumi-HPM Corporation, a unit of China's Yizumi Group, is a leading manufacturer of high- quality hybrid injection molding machinery from 60 to 3500 tons, and hot and cold chamber die casting machinery from 200 to 4500 tons. HPM has been supplying injection molding machinery and support services to the plastics industry since 1931, and has thousands of injection molding and die casting machines in operation throughout North America. HPM Company was incorporated in 1877 as the Hydraulic Press Manufacturing Company in Mount Gilead, Ohio, with the purpose to design and build hydraulic presses for the extraction of apple cider. HPM started to manufacture hydraulic presses that were used in a number of markets, including textiles, railroads, and food processing.
In March 2011, China's YIZUMI Precision Machinery Co., Ltd. acquired all HPM intellectual properties. Shortly after the purchase, HPM North America Corporation was formed in Marion, Ohio. In 2017, HPM North America changed its name to Yizumi-HPM Corporation to be representative of Yizumi's international stature.
Yizumi-HPM Corporation sells and manufactures injection molding machines and die casting machines based upon HPM designs but utilizes the engineering, manufacturing and financial strengths of YIZUMI. Yizumi-HPM is now positioned to offer technical injection molding machines that deliver high quality at an affordable cost. In 2017, the company opened its new 28,000 sq ft technical center in Iberia, Ohio. For more information, visit www.yizumi-hpm.com.
PRESS CONTACT: 
Joseph Grande
J. Grande communications Inc.
413.684.2463
Contact This Company Download Spec Sheet
More from Machinery & Machining Tools