Yellow Jacket Exhibiting at Fabtech 2011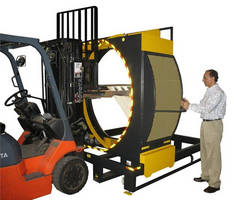 Chicago, IL from November 14-17, 2011. On display will be the company's 87" Manual Yellow Jacket Orbital Stretch Wrap Machine, for securing standard, oversized or odd-shaped palletized loads while the pallet remains on the forklift. A horizontally positioned stretch-wrap dispenser moves around and under a load as the Yellow Jacket is manually advanced across the length of the load. The 87" Manual features adjustable tensioning for a range of 0-150% film post stretch and standard machine wraps a standard pallet size up to 68" diagonal. Other orbital stretch wrap technology machines and equipment will also be discussed at the show.

GaleWrap markets Yellow Jacket brand orbital stretch-wrapping equipment and services that locks loads to the pallet, offering a quick and secure wrap to protect loads against damage, dust and wind. GaleWrap also offers GaleWrap® Oriented Film and Oriented Equipment as an alternative to conventional hand wrapping. GaleWrap Oriented Film and Equipment offer increased wrapping productivity, enhanced employee safety, improved load containment and lower total pallet wrapping costs.

For more information, contact Yellow Jacket, 1320 Leslie Drive, Douglasville, GA 30134. Phone: 866-425-3727, fax: 770-489-7511. Website: www.yellowjacket110.com, www.galewrap.com, E-mail: mklear@galewrap.com.


More from Machinery & Machining Tools