Yaskawa Motoman Robots Participate in NASA Teleoperation Test to Develop Robotic Refueling Technologies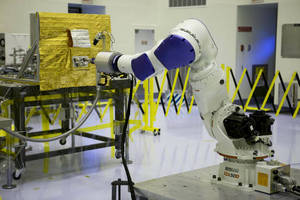 Dayton, OH — Yaskawa Motoman is pleased to announce that NASA recently selected its Motoman® SIA50 seven-axis robots for use in a teleoperation demonstration. NASA's Satellite Servicing Office (SSCO) is developing technologies and capabilities for ongoing maintenance of on-orbit satellites. Their February 2014 Remote Robotic Oxidizer Transfer Test (RROxiTT) successfully demonstrated the ability to robotically transfer oxidizer to a satellite valve in flight-like conditions with the teleoperated commands being sent over long distances.

  

The actual robot was located at Kennedy Space Center but controlled from Goddard Space Flight Center in Greenbelt, MD, a distance of over 800 miles.