Yaskawa Enhances Machine Controller Hardware and Software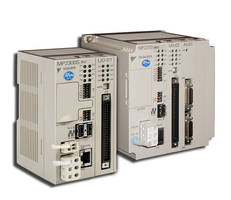 Waukegan, Ill. (July 7, 2009) - Yaskawa Electric America, Inc. is pleased to announce the release of MotionWorks IEC Pro and MP2310iec, which are important additions to the MotionWorks IEC / MP2000iec Product Series. MotionWorks IEC Pro MotionWorks IEC Pro is a new Integrated Development environment based on the IEC61131-3 international programming standard. MotionWorks IEC Pro is built upon the same code as our proven MotionWorks IEC Express software including all additions made to the MotionWorks IEC Express software since the May 2008 release. The Pro version allows users to program in Sequential Function Chart language, configure projects with up to 16 tasks, and support all of the MP2000iec controller models.
Product
MotionWorks IEC xpress
MotionWorks IEC Pro
Model Number
PDE-U-IECSA
PDE-U-IECPA
Languages
PLCopen Function BlocksLadder diagramStructured Test
PLCopen Function BlocksLadder diagramStructured TestInstruction ListSequential Function Chart
Tasks
Single Task
16 Tasks
Modes of Motion
Homing, Jogging, Positioning, Gearing, Registration and Camming
Controllers Supported
MP2300Siec (9 models), MP2310iec (3 models)
Operating Systems
Windows XP, Windows Vista
MP2310iec Controller The MP2310iec machine controller offers three new models that allow up to three local modules of digital or analog I/O to be controlled. The MP2310iec controller includes the following:
Communication Protocols - open standards EtherNet/IP and Modbus/TCP for connectivity to nearly every HMI and PLC on the market.
Standard Programming Languages - IEC61131-3 means that programs are developed and executed with predictable behavior.
Programmable Amplifier Outputs - the controller can operate local Sigma-5 outputs. This reduces panel cost and space requirements when just a couple of outputs are necessary.
Controller-Centric Commissioning - the MECHATROLINK motion network provides a channel for configuring the machine from a single location with one software tool even when complex motion such as camming or gearing functions are required.
A Multitude of Options - choose from eight option cards offered for the three expansion slots to accommodate most machine requirements.
Expandable I/O - numerous third-party remote I/O modules such as Phoenix, Wago, and Opto 22 can be interfaced with the system via the MECHATROLINK, EtherNet/IP or Modbus/TCP networks.
Built-in Web Server - offers standard controller diagnostic information eliminating the need for special software for maintenance personnel. MotionWorks IEC Express users will need to upgrade to v1.1.2.7 in order to configure a MP2310iec system.
MP2000iec Series
MP2300Siec
MP2310iec
Number of option module slots
1
3
CPU
SH4 (240 MHz)
SH4 (240 MHz)
Ethernet Hardware
EtherNet/IP, Modbus/TCP, Web Server
Controlled Axes
4, 8, or 16
Supported Modules
LIO-01, LIO-02, LIO-04, LIO-05, LIO-06, AI-01, AO-01, DO-01
Software
MotionWorks IEC Express, MotionWorks IEC Pro
Part Number                 Description
PMC-U-MP23104    4 axis controller with 3 open slots
PMC-U-MP23108    8 axis controller with 3 open slots
PMC-U-MP23116    16 axis controller with 3 open slots

OPC Server Update The MP2000iec OPC Server is optional software which provides data exchange between Windows applications and MP2000iec controllers via the manufacturer-independent client/server interface OPC (OLE for Process Control). OPC servers are commonly used to provide machine data to HMIs and SCADA systems in a standardized format. The MP2000iec OPC Server runs on Microsoft Windows 2000, XP, or Vista operating systems. The OPC Server part numbers and descriptions are shown below:

Part Number        Description
PDE-U-OPCPA     1 License
PDE-U-OPCPB     5 Licenses
PDE-U-OPCPC     10 Licenses
PDE-U-OPCPD     25 Licenses


In 1967, Yaskawa Electric America, Inc., a U. S. corporation, was created to provide automation solutions and support to customers in North and South America. Established in 1915, Yaskawa Electric Corporation is a leading manufacturer of Mechatronics products including variable speed AC drives, servos, machine controllers, and robots. Yaskawa holds international quality excellence awards, including the prestigious Deming Application Prize and its products are manufactured in ISO-9001:2000 registered facilities. For more information on the MotionWorks IEC Mechatronic Control System, contact Yaskawa Electric America, Inc. 2121 Norman Drive South, Waukegan, Ill., 60085, at (800) YASKAWA (927-5292), (847) 887-7310 (fax), or visit our website at www.yaskawa.com.
Related