Yale Now Offering Canadian Quick Ship Program on the Global King Electric Wire Rope Hoist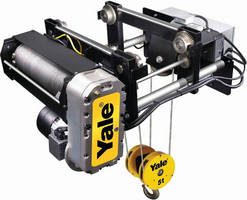 AMHERST, N.Y. – Columbus McKinnon Corporation (NASDAQ: CMCO), a leading designer, manufacturer and marketer of material handling products, has made its popular Yale Global King electric wire rope hoist available in Canada as a Quick Ship Program.



The Canadian 24 Hour Quick Ship Program offers select Global King units as a standard monorail unit or as a complete plug & play crane kit. These units have been configured for broad appeal, while living up to our own standards of dependability and durability.



Both the monorail hoist and plug & play crane kit Canadian 24 Hour offerings come in 3, 5, 7-1/2 and 10 ton units. For more product details and specification information, please visit www.cmworks.com/globalkingwireropehoistsavailablewithquickship.



An upgraded 3-year warranty is offered as a standard on the Global King hoists. This warranty change is a reflection of the hoist exceeding expectations and providing one of the lowest costs of ownership over its 10-years in the market.



All Global King models continue to be available through the Columbus McKinnon network of crane builders and distributors. For a list of distributors, please contact customer service at 1-800-888-0985 or go to www.cmworks.com.



About Columbus McKinnon

Columbus McKinnon is a global leader in the material handling industry, supplying products and systems that efficiently and ergonomically move, lift, position or secure materials. Key products include hoists, cranes, actuators, chain and forged attachments. The Company is focused on commercial and industrial applications that require the safety and quality provided by its superior design and engineering know-how. Comprehensive information on Columbus McKinnon is available on its web site at www.cmworks.com.

More from Material Handling & Storage