Yale® MO70T Tow Tractor allows easy adjustment for layout configurations.
Press Release Summary: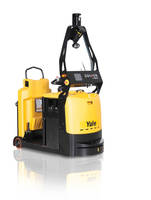 Suitable for sequencing applications in assembly operations and stock restorations, Yale® MO70T Tow Tractor enables minimized startup time, costs and easy adjustments. Product comes with infrastructure-free navigation technology for navigating without requiring tape, wires or magnets.
---
Original Press Release:
Yale Expands Driven by Balyo Robotic Lift Truck Lineup
For supply chain operations striving to meet faster delivery expectations while dealing with labor availability and retention challenges, Yale offers a new addition to its automation lineup. The Yale® MO70T tow tractor now joins the company's MPE080-VG end rider model, using Driven by Balyo technology to autonomously navigate through warehouse environments and execute mission-critical load transportation tasks.
Ideal for sequencing applications in assembly operations and stock replenishment, the MO70T is the second robotic solution available since Yale partnered its materials handling expertise with Balyo's industry leading navigation technology. Both the tow tractor and end rider solutions use infrastructure-free navigation technology that maps existing structural features to self-locate and navigate – without requiring tape, wires or magnets for guidance. This enables reduced startup time and costs, and easy adjustment to changing layout configurations.
"The addition of the flexible Driven by Balyo technology to the tow tractor model provides a scalable robotic solution for multiple load transportation applications," said Lou Micheletto, Manager of Integrated Solutions for Yale. "Whether a single truck or large fleet, the expanded autonomous lift truck lineup allows operations to reap the benefits of greater load visibility, reduced operating costs and increased reliability."
By using robotic lift trucks, operations can achieve "cobotics," with employees and machines working side-by-side, allowing people to focus on more valuable roles, leaving repetitive, low value-added tasks to the robotic lift trucks. Both Driven by Balyo models from Yale can switch to manual mode by simply touching a button or grabbing hold of the tiller. Once the operator leaves the truck, it resumes regularly assigned workflows.
About Yale Materials Handling Corporation
Yale Materials Handling Corporation markets a full line of materials handling lift truck products and services, including electric, gas, LP-gas and diesel powered lift trucks; narrow aisle, very narrow aisle and motorized hand trucks. Yale has a comprehensive service offering including Yale Vision wireless asset management, fleet management, Yale service, parts, financing and training. Yale® trucks are manufactured in an ISO 9001:2008 registered facility and range in capacity from 2,000 to 36,000 lbs.
Yale Materials Handling Corporation is a division of Hyster-Yale Group, a wholly owned subsidiary of Hyster-Yale Materials Handling, Inc. (NYSE:HY). Hyster-Yale Materials Handling, Inc. and its subsidiaries, headquartered in Cleveland, Ohio, employ approximately 6,500 people world-wide.
Company Contact:
Jennifer Timblin
Yale Materials Handling Corporation
252-931-5747
jennifer.timblin@hyster-yale.com
More from Agricultural & Farming Products