Yale® ESC030AD Three-Wheel Stand Recognized as Plant Engineering Product of the Year Finalist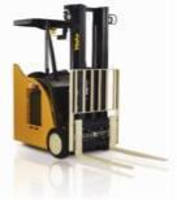 GREENVILLE, N.C. — Yale Materials Handling Corporation announces that its ESC030AD three-wheel stand has been recognized by Plant Engineering as a product of the year finalist. The competition celebrates innovation and recognizes new product designs that help improve productivity in manufacturing operations. Plant Engineering selected the Yale® three-wheel stand as a finalist in the material handling systems category for its ability to perform in extreme environments, while maximizing operator comfort and productivity.



"This recognition highlights the commitment Yale has to understanding customer challenges, and turning ideas into innovative solutions that help our customers grow their businesses and be more productive," said David McNeill, Manager of Product Strategy for Yale. "We are honored to have the three-wheel stand recognized for its exceptional performance and versatility."



Extreme environments including cold storage, wash-down and food processing, can be brutal on operators and components. The ESC030AD three-wheel stand is engineered to stand up to harsh environmental conditions and strict serviceability requirements with innovative features that help improve productivity across a wide range of extreme manufacturing applications. Yale knows that comfortable operators are often more productive. The Yale® Smart Ride Floor System eliminates up to 65 percent of shock and vibrations transmitted to the operator, while the Clear View™ mast allows operators to easily stack and transport pallets with up to 40 percent greater visibility when compared to leading competitor configurations. The smallest details have been considered on the three-wheel stand, like making sure the multi-function control handle can be effectively used even with bulky freezer gloves in subzero applications. Additionally, four battery compartment size options give the three-wheel stand the flexibility to fit most applications, offering improved maneuverability in tight spaces.



Product of the Year Award winners will be honored at the annual Engineering Awards in Manufacturing dinner in Chicago on March 22. Voting for award winners is now open to Plant Engineering subscribers through January 8, 2016.



About Yale Materials Handling Corporation

Yale Materials Handling Corporation markets a full line of materials handling lift truck products and services, including electric, gas, LP-gas and diesel powered lift trucks; narrow aisle, very narrow aisle and motorized hand trucks. Yale has a comprehensive service offering including Yale Vision wireless asset management, fleet management, Yale service, parts, financing and training. Yale® trucks are manufactured in an ISO 9001:2008 registered facility and range in capacity from 2,000 to 36,000 lbs. For more information, or to find the Yale® lift truck dealer nearest you, call 1-800-233-YALE or visit www.yale.com.



Yale Materials Handling Corporation is part of NACCO Materials Handling Group (NMHG), a wholly owned subsidiary of Hyster-Yale Materials Handling, Inc. (NYSE:HY). Hyster-Yale Materials Handling, Inc. and its subsidiaries, headquartered in Cleveland, Ohio, employ approximately 5,400 people world-wide.



More from Communication Systems & Equipment