Additive Manufacturing Systems
XYZprinting Europe Attracts Attention with Its Affordable Da Vinci 3D Printers at Euromold 2014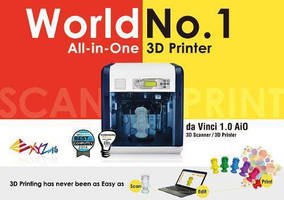 RIDDERKERK, The Netherlands — Euromold is the world fair for Molding, Tooling, Design and Application Development and is held annually in Frankfurt. For years, 3D printers have been the leading product at this event. This year saw XYZprinting Europe attending Euromold 2014 with great success.



XYZprinting drew large crowds to its stand, where it displayed the four printer models that it has available. Numerous visitors and participants not only appreciated the high print quality and user-friendliness, but were also highly impressed by the very affordable price of the printers. The 3D printers from XYZprinting are available from EUR 599.



Unique All-in-One 3D Printer



XYZprinting has made huge technological leaps. They were the first company to integrate a 3D scanner into a 3D printer. By doing this, it is possible to copy, edit and print an existing object.



Da Vinci 1.0 AiO (All-in-One) EUR 799 *



*Available from December



Da Vinci Duo 2.0A



There was also great interest in the new Da Vinci 2.0A Duo. Thanks to the addition of an extra nozzle, an object can be printed in two different colours. Although the Da Vinci 2.0A Duo requires two colour cartridges, the 3D printer is the same size and as compact as the first Da Vinci 1.0.A. The nozzles work simultaneously and the print speed is the same as for the 3D printers with a single nozzle.



Easy to use



Da Vinci 3D printers are suitable for everyone. The website has tutorial videos with useful advice on installing, using and maintaining printers. In order to print, it is necessary to have ABS or PLA filaments, which are available in 13 colours (cartridges).



Free software and models



XYZprinting provides free software - XYZware - for preparing models in readiness for printing. There is also an extensive gallery on their website, where various ready-made models can be downloaded, customized and printed. These can be downloaded for free from eu.xyzprinting.com.



Contact details:

(Madame) Cin-Yee Syria Ho

Marketing Specialist Europe

Email:syria@xyzprinting.com

Phone: +31(0)858-768-735



XYZprinting Netherlands B.V.

More from Architectural & Civil Engineering Products