XXMARK Printer features design pro label formatting software.
Press Release Summary: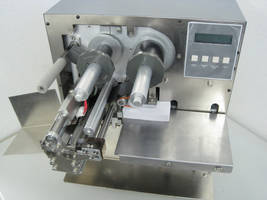 Delivering print speeds of 150 mm's/sec in 300 or 400 dpi resolution, XXMARK Printers come with 100mm or 125mm wide print heads. Featuring aircraft grade aluminum and stainless steel construction, units provide fast and simple operational controls with integrated keypad. Measuring 19 in. W x 13.5 in. D x 16 in. H and 20 Kgs weight, printer is operated 33°F-100°F in temperature range. Product is designed with parallel, serial or USB interfaces.
---
Original Press Release:
XXMARK Thermal Transfer Flat Product Printer
Our XXMARK Printer is a simple & economical Thermal Transfer Single Color Printer. It is designed to overprint PRICE, SELL-BY/EXP/ LOT CODES, 1D & 2D BkRCODES and/or LOGOS onto Garment Tags, Blister/Header Cards, Pouches, Sleeves, Tyvek Lids, Cut Labels, etc.
Incorporates an affordable 100mm or 125mm wide Print Head
Fully Electric design requires no air connection for greater versatil
Aircraft Grade Aluminum and Stainless Steel construction
Integrated Keypad provides fast and simple operational controls
Open Platform design allows quick and easy Thermal Ribbon chan
Print speeds up to 150 mm's/sec. in 300 or 400 dpi Resolution
Digital Thermal TransfeWechnology requires no Metal TyInks or Dies and has a very low cost of operation
Includes NICE LABEL® "Design Pro" Label Formatting Software
Ideal for the Textile, Food, Medical Device, Cosmetic, Automotive, Sporting Goods & Hardware Industries
                                                                       XXMARK/4                                  XXMARK/5
Print Head Type                                                            Near edge
Print Head Width:                                 100mm's                        /                125mm's
Resolution:                                          300 dpi Std. (400 dpi Optional)
Print Speed:                                         Up to 6"/sec. (150mm's/sec.)
Max. Print Length:                                16"(400mm's) 
Product Width:                                    40mm's to 130mm's 
Product Length:                                   50mm's to 400 mm's
Product Thickness:                              .007" - .032" (.02 • .08 mm)                      
Max. Stack Height:                               Up to 6"/(150mm's) depending upon Product
Max. Ribbon Length:                             1665'(500M)
Ribbon Width:                                 25-100 mm's / 25-125 mm's 
Ribbon Core Diameter:                        1" (25mm's)
Ribbon Saver:                                       Standard
Interface                                                Parallel, Serial or USB (LAN Optional)
Residents Fonts                                    17 Standard - 2 Scalable
Print Rotation:                               0° , 90° , 180°  or 270°  for Character Fonts, Bar Codes & Graphics
Power Requirements:                       1101220 VAC(+/-10%) 50160 Hz. @ 200W
Operating Temperature:                  33°F — 100°F (40C - 400C)
Machine Dimensions:                    19" W x 13.5" D x 16" H (378mm x 335mm x 400m)
Net Machine Weight:                                44 lbs. (20kg.)
Contact:
Dalemark Industries, INC.
575 Prospect St., Ste 211
Lakewood, NJ 08701
Tel: 732.367.3100
Fax: 732.367.7031
Email: sales@dalemark.com
Website: www.dalemark.com
Related