Xtrakt™ Extraction System improves operator safety.
Press Release Summary: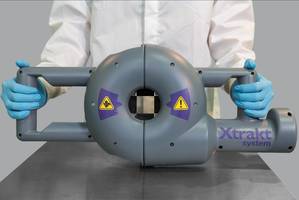 Providing complete extraction of low- and high- viscosity liquids such as lotions, creams and gels, Xtrakt™ Extraction System reduces residual product remain of less than 2 kg in 1,200 L liner. Operates using normal plant air, Grayling Xtrakt liners and Xtrakt drive system are designed to work together. Capable of extracting liquids up to 400,000 cP, product is suitable for personal care, cosmetics and food manufacturing industries.
---
Original Press Release:
ILC Dover's New Xtrakt™ System Significantly Reduces Waste and the Environmental Impact of Bulk Liquid Dispensing
The innovative system also boosts efficiency, improves operator safety and preserves product integrity
ILC Dover today announced the introduction of its new Xtrakt™ System for bulk liquid dispensing. The innovative system is designed to provide virtually complete extraction of both low- and high-viscosity liquids, such as lotions, creams and gels, dispensed from shipping and transfer totes that use liquid liners in intermediate bulk containers (IBCs). At the same time, the system improves operator safety and ensures sanitary handling of product throughout the shipping, transfer and dispensing process.
In making the announcement, Glenn LeBlanc, ILC Dover's VP & Division Manager for Packaging, noted, "Using a systems approach and their extensive knowledge of advanced films and packaging technology, our team of engineers at ILC Dover have developed a system that efficiently dispenses liquids from bulk containers. We believe our Xtrakt System represents a new standard in bulk liquid handling, especially for viscous products."
The performance of the system has been validated in multiple customer trials, demonstrating the ability to reduce residual product in a bulk liner to as little as 0.1% of the liner's capacity. Customers using the patent-pending Xtrakt system in their own facilities report residual product of less than 2 kg remaining in a typical 1,200-liter (315-gallon) liner, down from 10-40 kilos (22-88 pounds) of residual product left by previous dispensing systems and techniques. Based on estimated product values ranging from $5 to $15 per kilogram, the Xtrakt system would save these customers from $40 to $570 per liner-dispensing-cycle.
The Xtrakt drive system and Grayling Xtrakt liners have been custom-designed to work together. Drawing on their materials expertise, ILC Dover's engineers have developed a double-walled liner constructed from a robust polymer with special surface texturing that guides the drive unit along the liner's full length, continuously presenting product to the discharge pump.
Once the drive unit is engaged, it operates hands-free, using normal plant air for both the drive unit and the control system. When the liner is empty, the unit stops automatically. The operator can then remove the drive unit and return it to the system's self-contained deployment cart, ready for the next tote. Because the operator never has to push, pull or otherwise manipulate the heavy liner, the potential for injury and repetitive stress are drastically reduced.
Describing the system's performance, Tony McKee, Chief Engineer at ILC Dover, said, "In one trial, where high residuals of a particularly costly product had been the norm, test data proved that using the Xtrakt System not only saved processing time and cost, but - because the operator no longer had to slit the bag open to manually extract the remaining high-value product - it also eliminated a source of potential product contamination, allowing the operator to maintain sanitary conditions throughout the process."
Efficient emptying of the liner also contributes to environmentally sustainable processing for the system's owners. When other systems leave large amounts of residual product in the liner after emptying, the liners often cannot simply be disposed of in the normal waste stream. Instead, the manufacturer must hire a specially licensed hazardous waste contractor to take the liners off-site and dispose of them in compliance with hazardous waste regulations. Not only is this costly, but it also increases load on the waste handling system and requires use of more natural resources, because additional product must be produced again, to account for the residual waste.
In summary, LeBlanc said, "With its unparalleled level of waste reduction, the Xtrakt system has proven itself capable of increasing production output and profits, while offering operators a sustainable technology that minimizes waste processing. The system's very low residual level has even enabled one operator to pass the empty liners to a recycling facility, instead of disposing of them in the waste stream."
In extensive testing, the system has also proven itself capable of extracting liquids with viscosities up to 400,000 cP, making it suitable for personal care and cosmetics, as well as chemical and food manufacturing. For more information, visit www.ilcdover.com/xtrakt.
About ILC Dover
ILC Dover is a world leader in the innovative design and production of engineered products employing high-performance flexible materials. Since 1947, ILC has provided engineered solutions to complex customer problems. Known for the production of space suits for NASA, we leverage our vast materials, engineering and design experience to create high performance Powder Handling Systems for pharmaceutical and life sciences customers, Personal Protection Equipment and Lighter than Air systems for commercial and government customers, and Intermediate Bulk Packaging solutions for multiple industrial markets. Behrman Capital is the majority shareholder of ILC Dover.
Web Site: http://www.ilcdover.com
More from Transportation Industry Products